October is a rainy season in Norway.  We discovered that first hand when we visited there, but we did not let that dampen our fun!  Voss was just one stop in our journey from Oslo to Bergen on a mom's trip to Norway we took in October, leaving our husbands to tend to our 6 kids between the two of us.
After pulling into the bus station (which was really just a parking lot), we asked the driver how to get to the Voss Youth Hostel.  It was pouring rain so he drove us as far as he could go that direction, ( a few blocks) and we piled out of the bus with our backpacks, rain jackets, rain boots and umbrellas and sloshed our way about 1/2 mile to our destination for the night.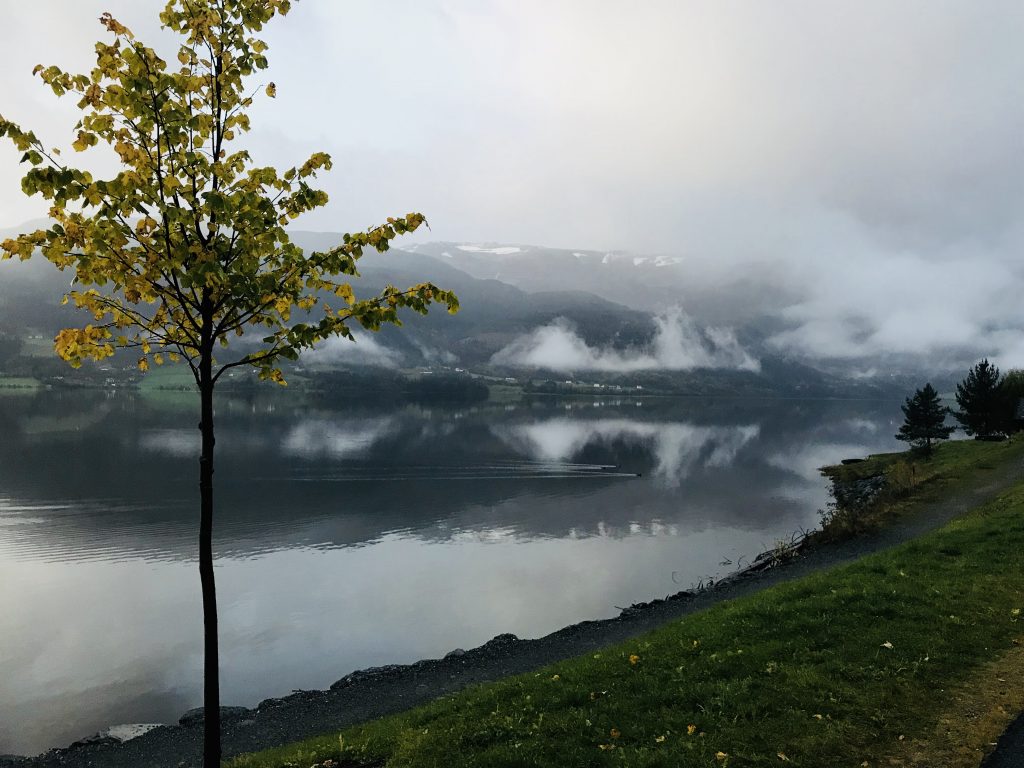 This hostel is located just outside of town on a lake and was set up more like a hotel.  We had our own room with a bathroom and shower.  (The entire bathroom actually was the shower so the toilet and paper all got wet when you showered.)  The best part was that they had a community organic garden right outside the door.  Even in mid October they had zucchini, peas and lettuce for us to eat.    If it were not raining and warmer out it would be a great place to take out a kayak or stand up paddle board which they had available to use.  This was my original plan before we left until I realized how cold 45 degrees  Fahrenheit actually felt.  The price of this hostel included breakfast as well.  They had a spread of organic fruits, vegetables and homemade breads and of course smoked Norwegian Salmon.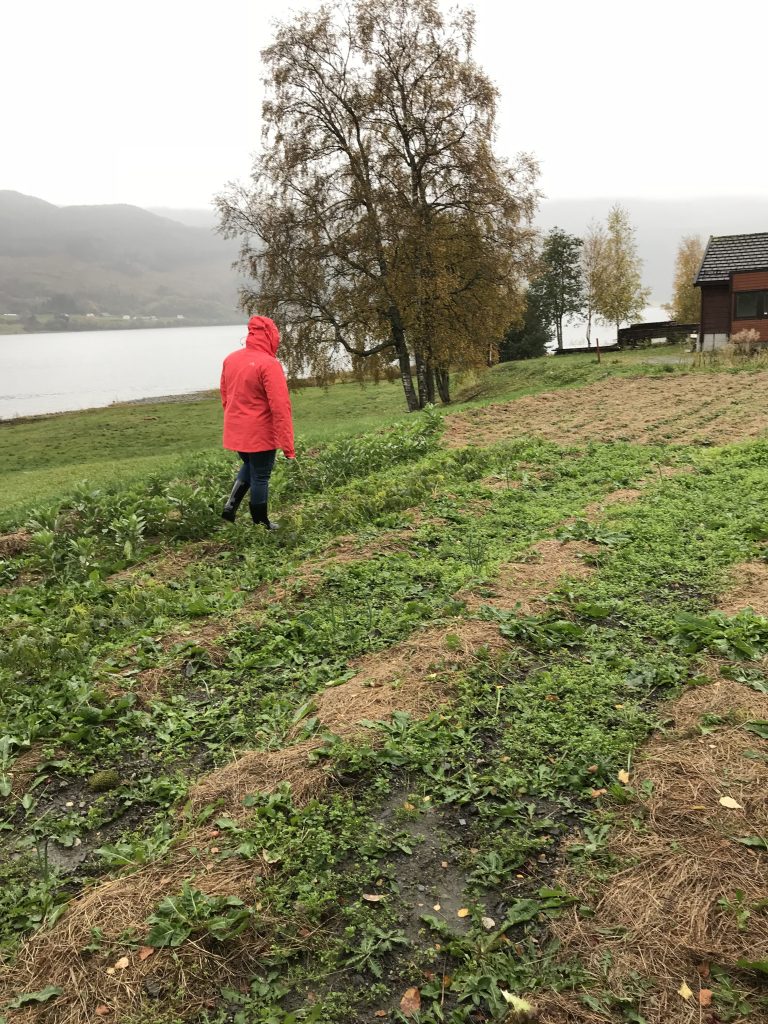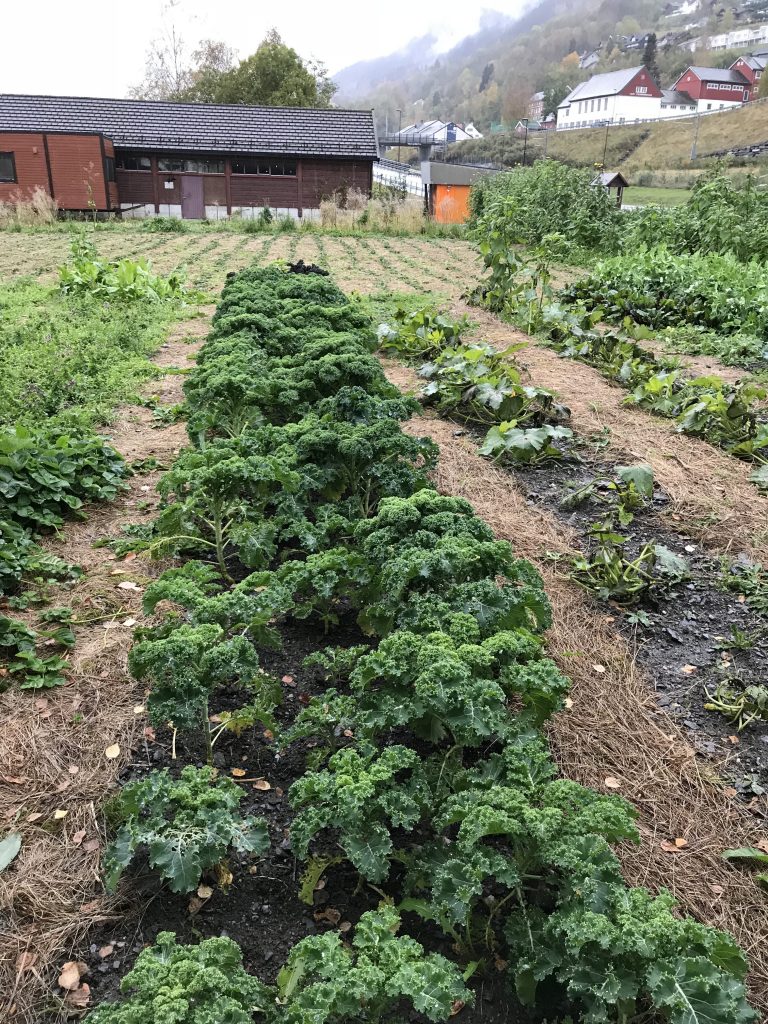 Because it was low season there were few people there.  We relaxed and sat by the fireplace and drank our tea.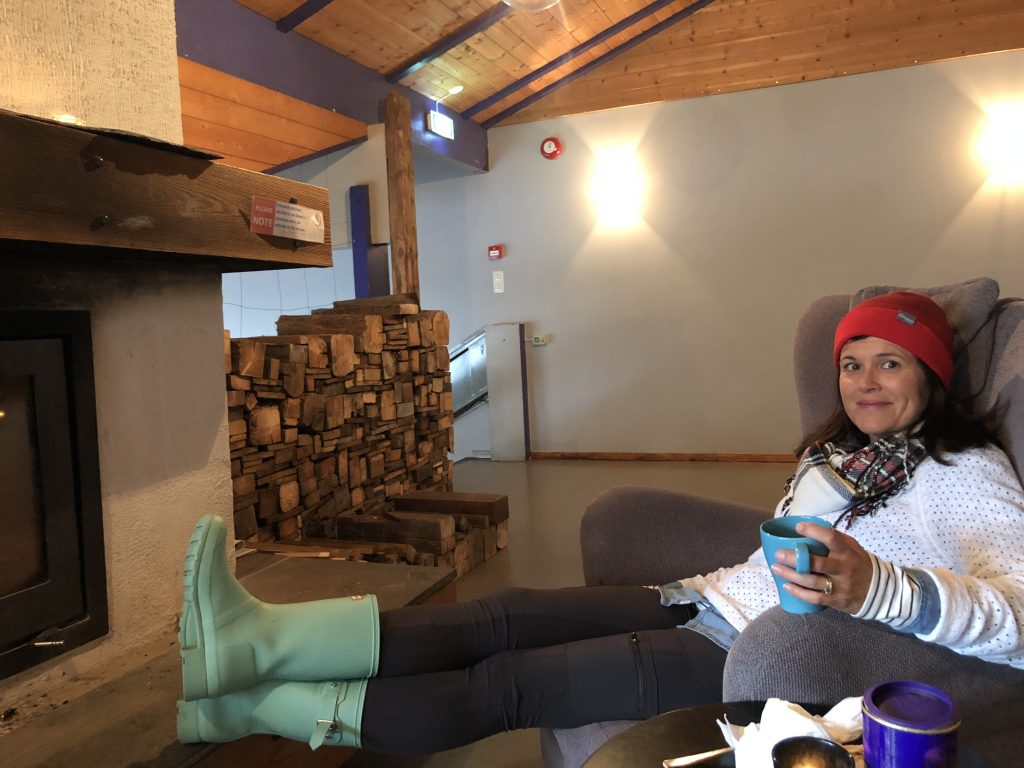 We also walked to town and saw the  beautiful Voss Church.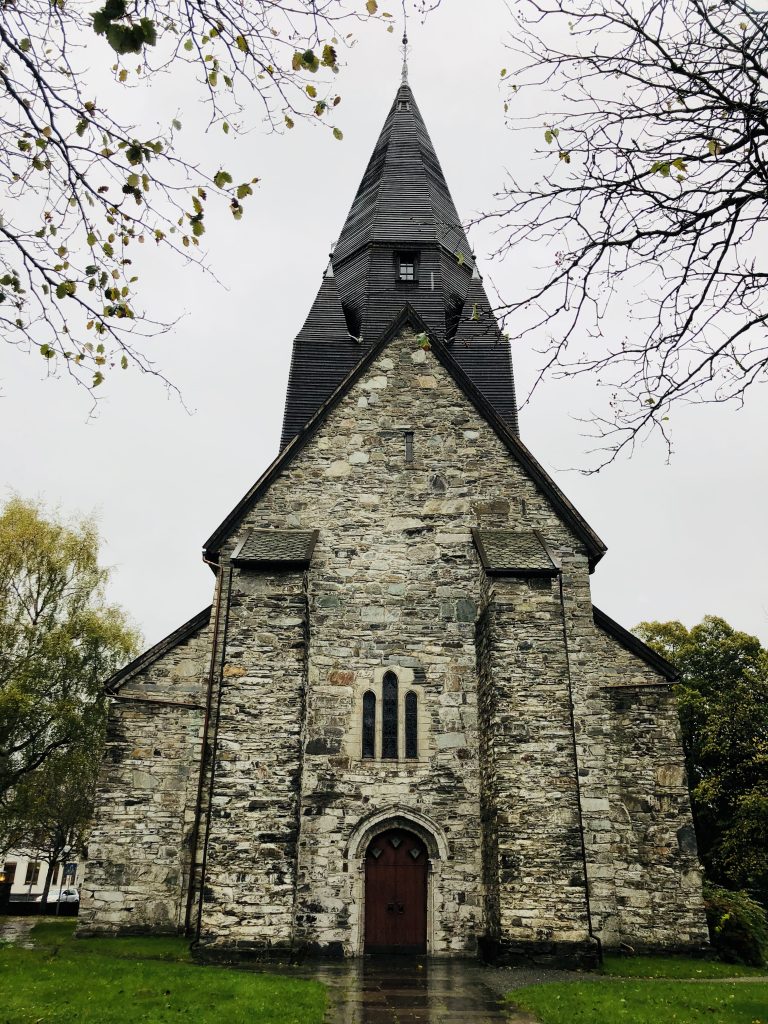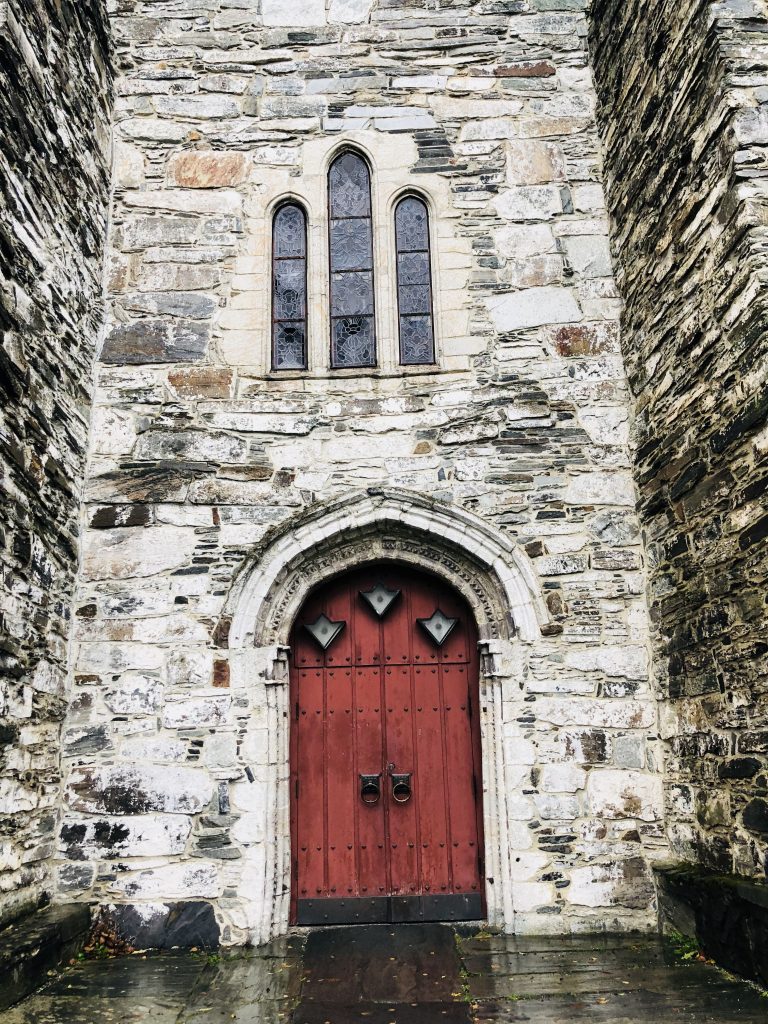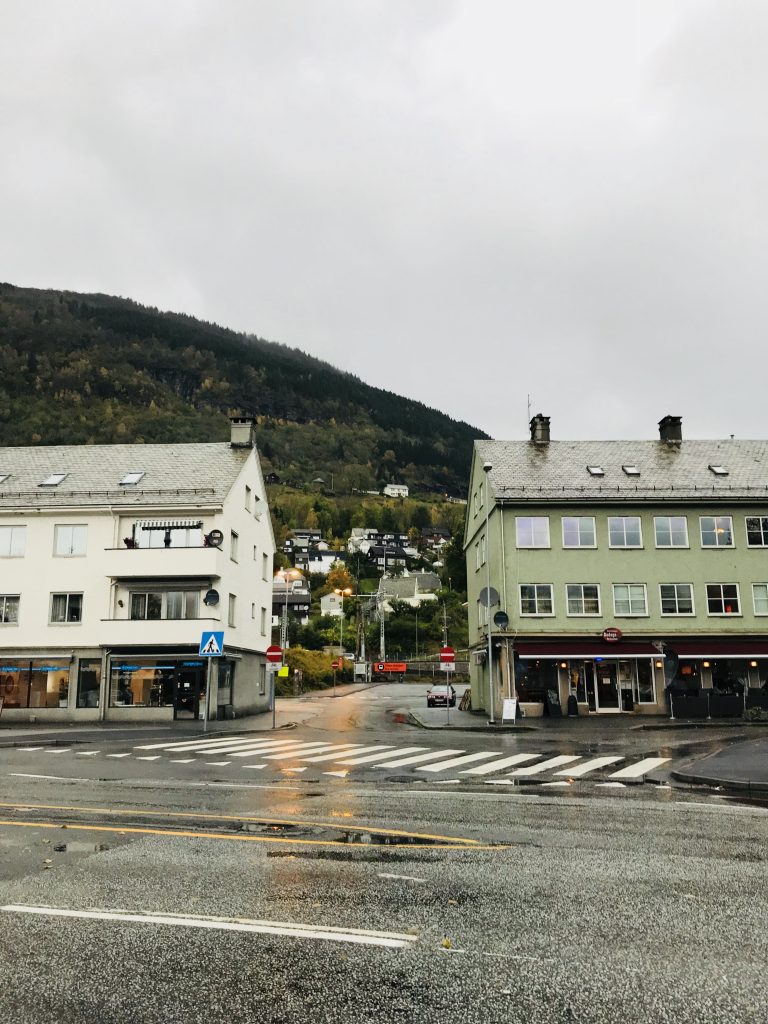 Voss is known for its extreme sports, hiking, water activites, nothing of which we could do in the rain in October. But we still enjoyed ourselves immensely!  The hostel is very near the Voss Culture Center and the Fleischer Hotel which would both be great rainy day places to visit.  We enjoyed ourselves by just walking, exploring, window shopping, checking out the grocery stores and all the cool, interesting and different foods that are eaten in Norway compared to home.  Black Licorice Ice cream was every place we went! We sure wish we could find that at home.  We also would have loved to buy some fresh fish at this stand at the side of the road.  If we had not eaten already, we could have bought some and brought it back to the Hostel to cook up in the shared kitchen.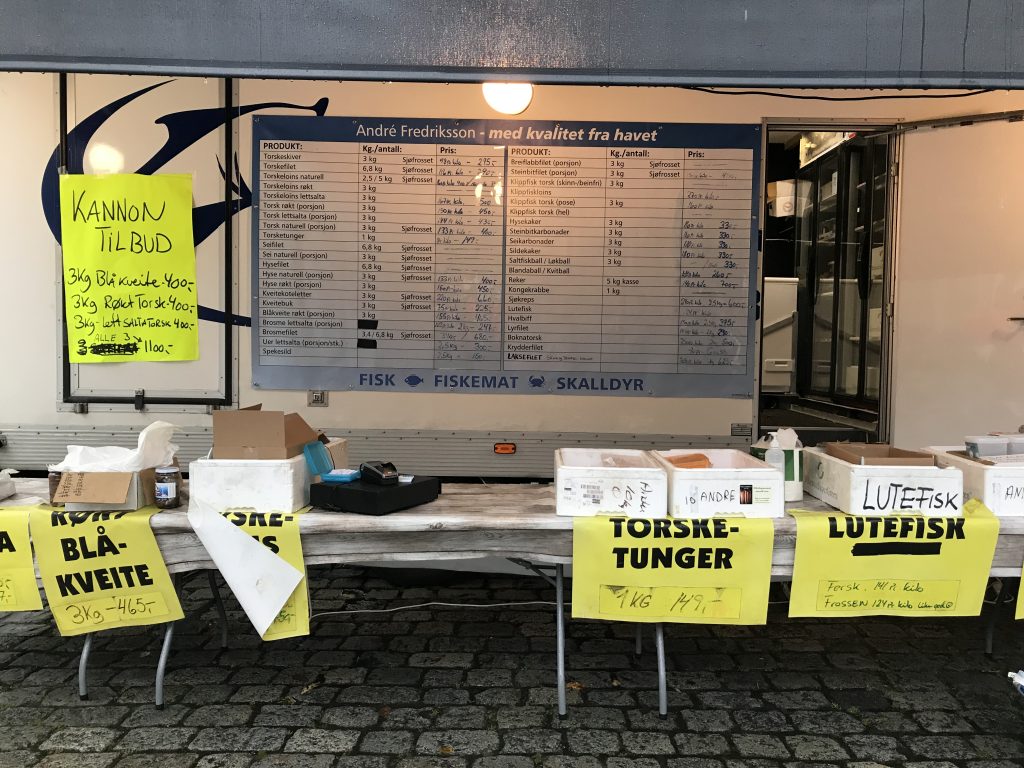 To end the night, we ate our ice cream, drank some wine and sat by the fireplace.  That was our vacation in Voss and it was wonderful!
The next morning we decided to take the early train to Bergen.  If were had visited Voss in the summer and could take a quick bike ride around the lake we may have chosen the later train but we were ready to continue our amazing adventure.  We were able to buy our tickets at a kiosk right outside the station.  Click here to read more about how we chose to book our transportation through Norway.   Read HERE about our adventure in Bergen, our next destination.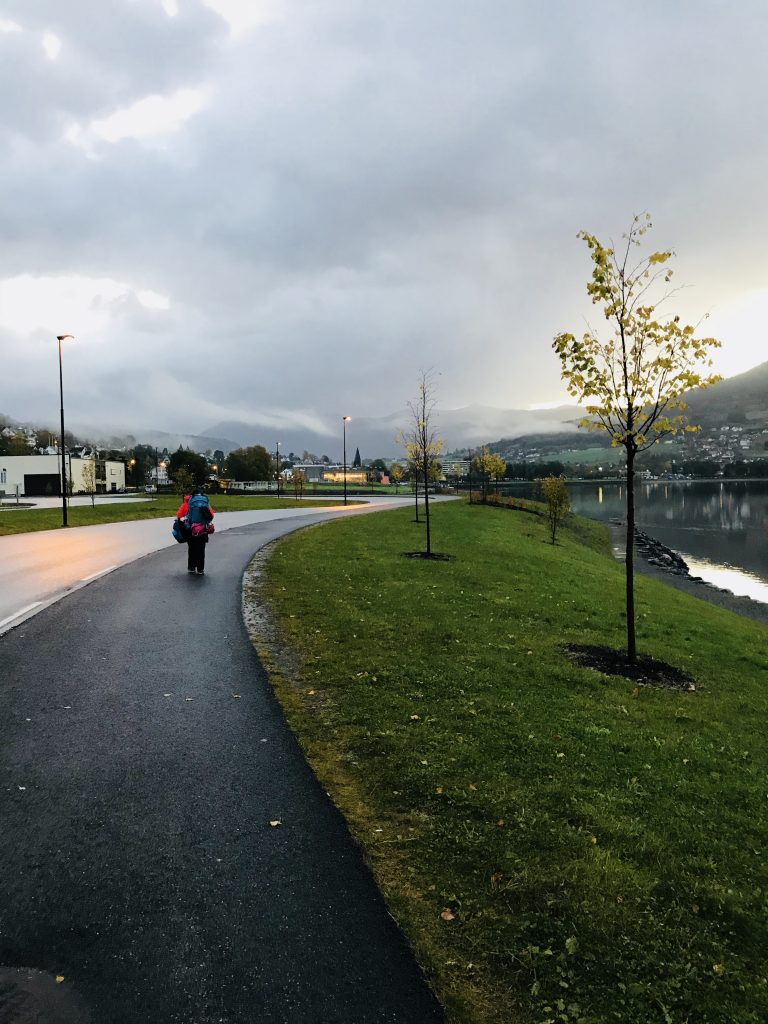 Voss is another beautiful city in Norway which we only just got a glimpse of but fell in love with it.  The rain did not deflate our spirits but made us even more grateful for the other unexpected joys we discovered on our trip.  The black liqorice ice cream, the many many laughs and the humor that can be found in even the small things, (Like the laugh we had about the perils of being over 40 and the effects of laughing too hard about dropped jelly
What joys do you find when traveling?  Comment below. Thinking about traveling to Norway and need inspiration?  Pin it!
Happy travels!
Jennifer
Related Posts
Visit to Flam, Norway in October
Travel Guide, How to Plan Transportation from Oslo to Bergen, Norway