Even in the rain! Why in the rain?  Because it rains a lot there and it is still a beautiful place to vist!  Check out this trip report for tips from two moms on an adventure.
Bergen is a large port city on the West Coast of Norway.  It was the final destination on our journey from Oslo.  We took the train from Voss and arrived at the train station and spent two nights in Bergen. The first full day we saw the sunshine! We were so happy and amazed because we fully expected to have rain for our entire stay because Bergen is nicknamed the City of Rain and is known for its plentiful rainfall.
Before leaving for the trip I had used google maps and printed walking directions from the train station to our AirBnb.  I always feel better doing this in case my phone dies or I don't have service so that we can get to our destinations by foot without trouble.  We had the perfect little apartment in a popular area about 2 blocks from the Bryggyn (On the UNESCO list for World Cultural Heritage sites).  We were able to walk to everything from here.  We were so happy to have chosen an Airbnb because we could do all our laundry and had a kitchen to make breakfast.  If you are staying in the the area I highly recommend listing 7332973.  The owner was not there during our stay but emailed us to ask how we were doing and answered all our questions.
Bergen is a beautiful city and made us feel so welcome. Here are a few of the places we visited.
Floibanen Funicular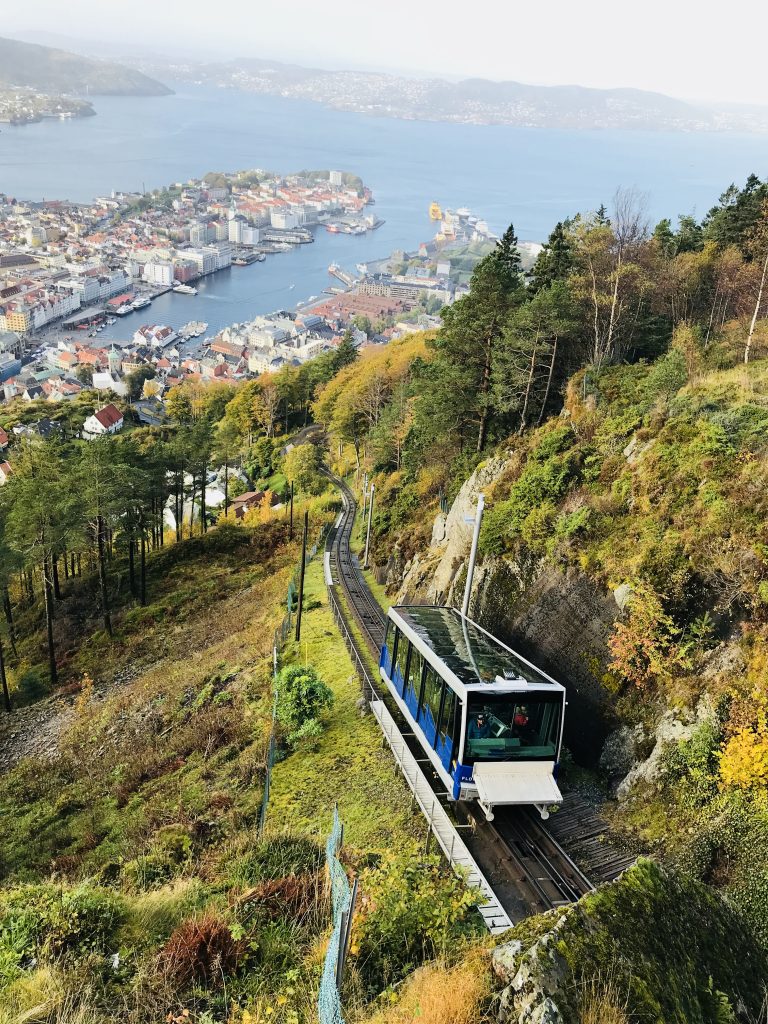 This is a fun tram ride up to a beautiful park at the top of the mountain.  The entrance is just a few blocks from the Bryggen area and it was an unexpected find!   There was so much more to do at the top then we had realized! It not only has a beautiful view of the city of Bergen, but there are activities  like a ropes course, hiking, a small lake for canoeing, lot of trails, a playground, a restaurant and café, and even some goats to visit that hang out at the top.  I can see why the locals enjoy it, but as a tourist it is a definite attraction to put on your list.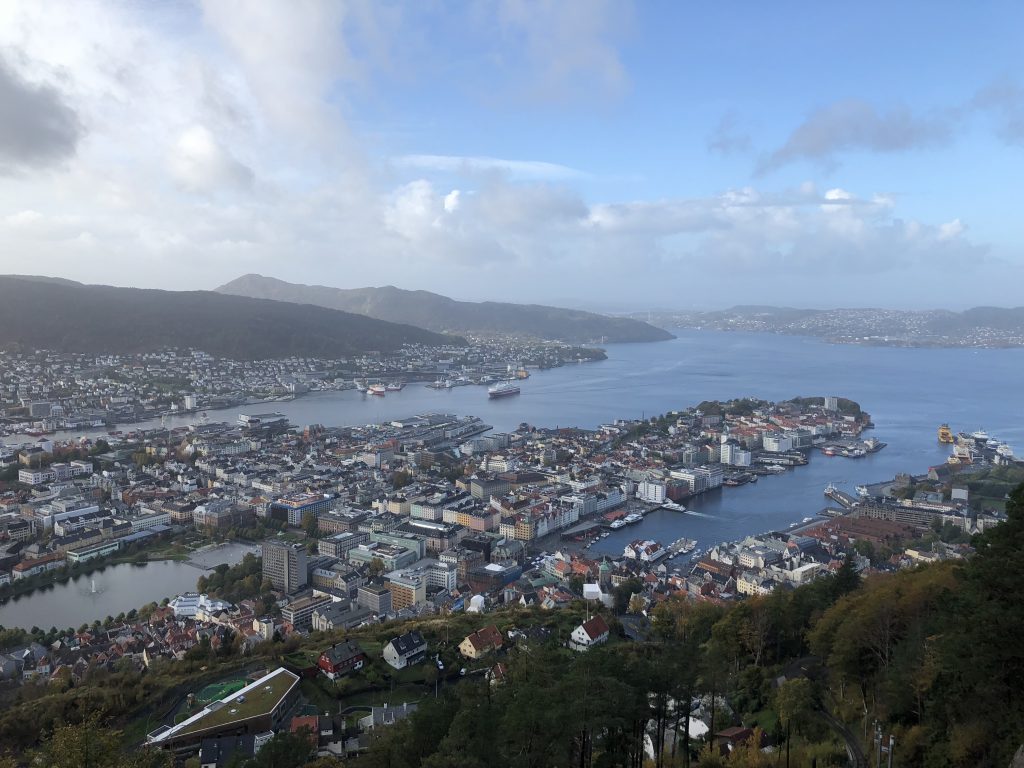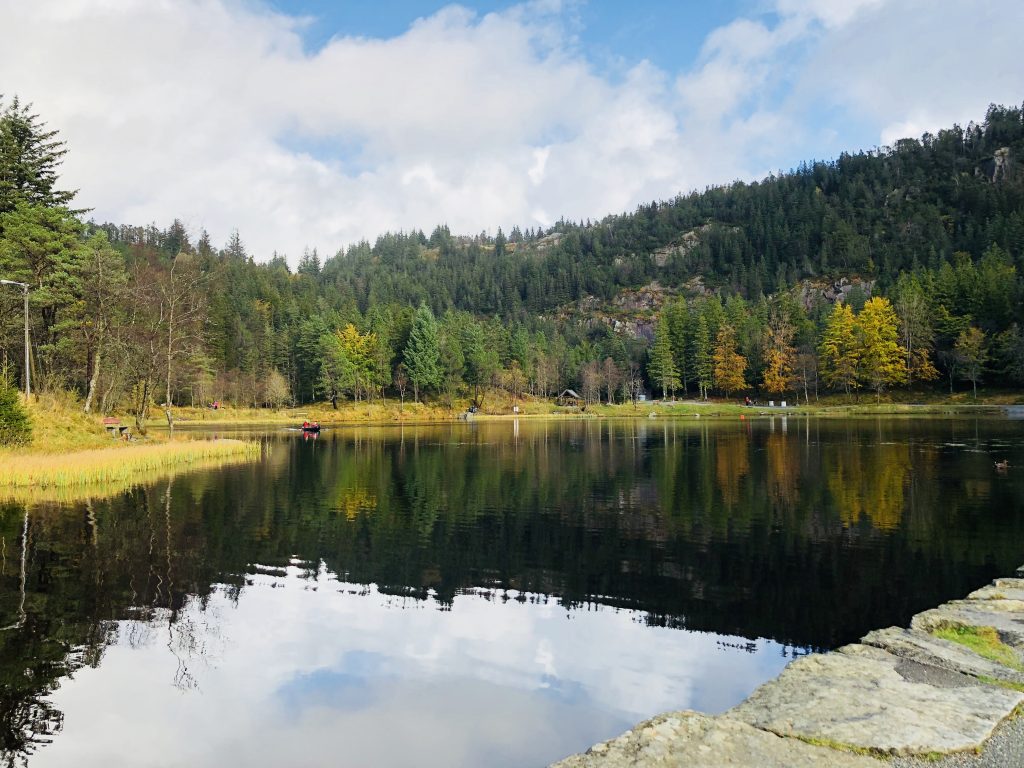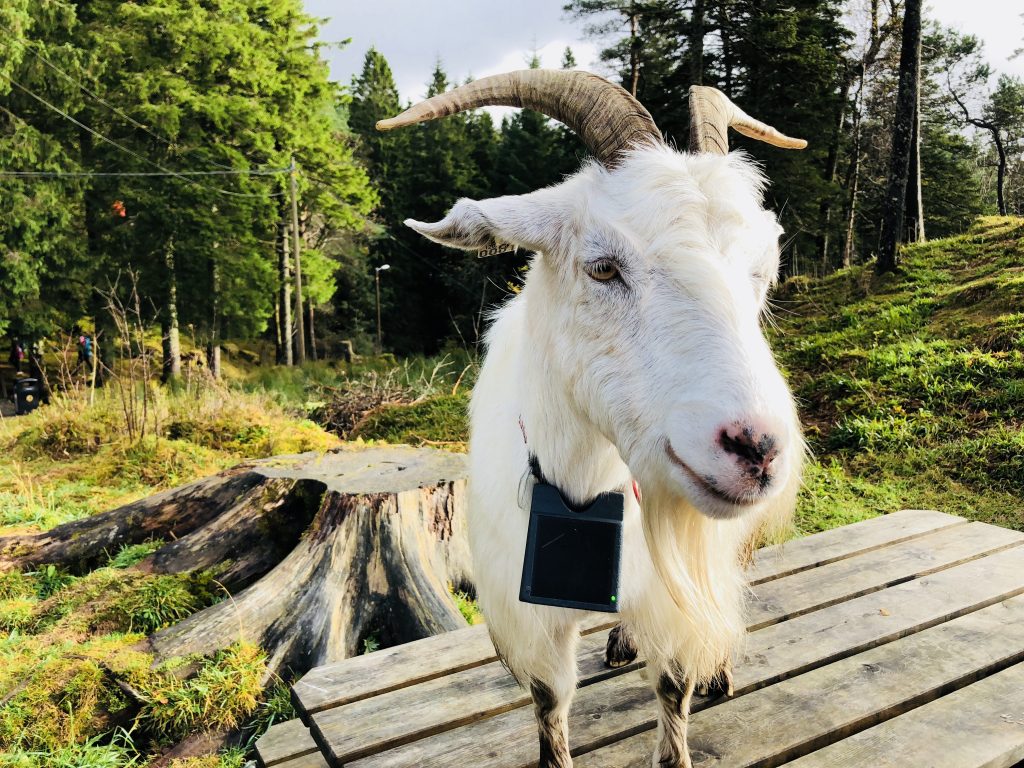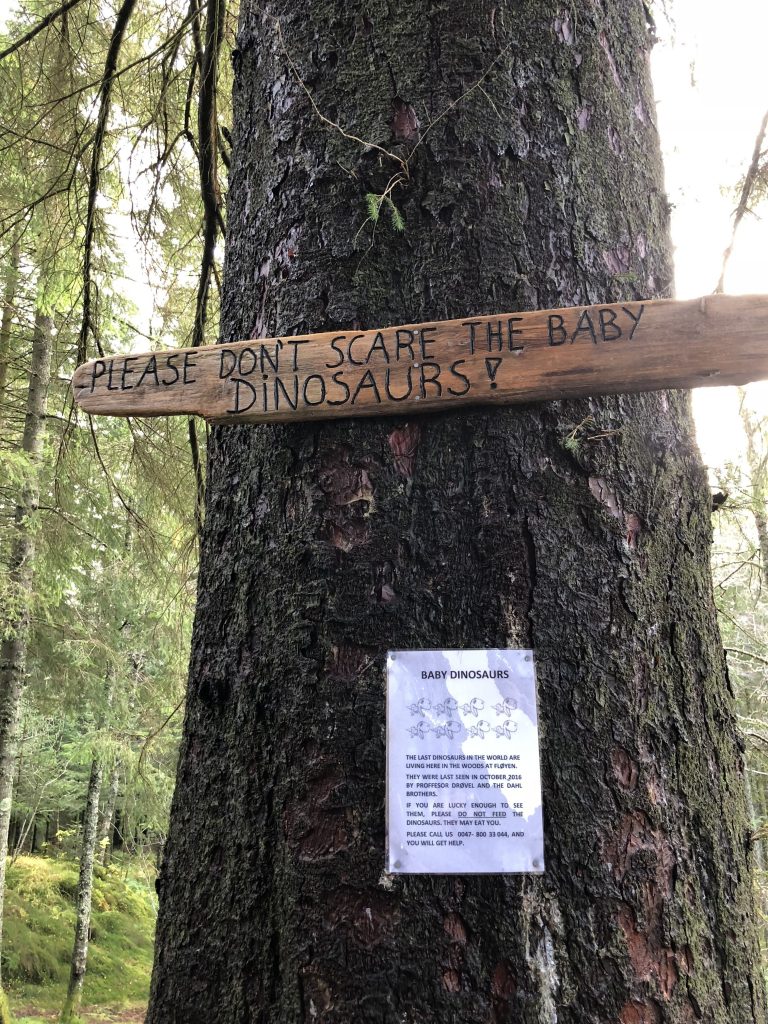 Bryggen
This is the area historically known for trading, and is now made up of commercial buildings lined up along the harbor. The buildings have many stores tucked in them and it was fun to walked around and shop. Walking through the old buildings brings you back in time when it was filled with European traders.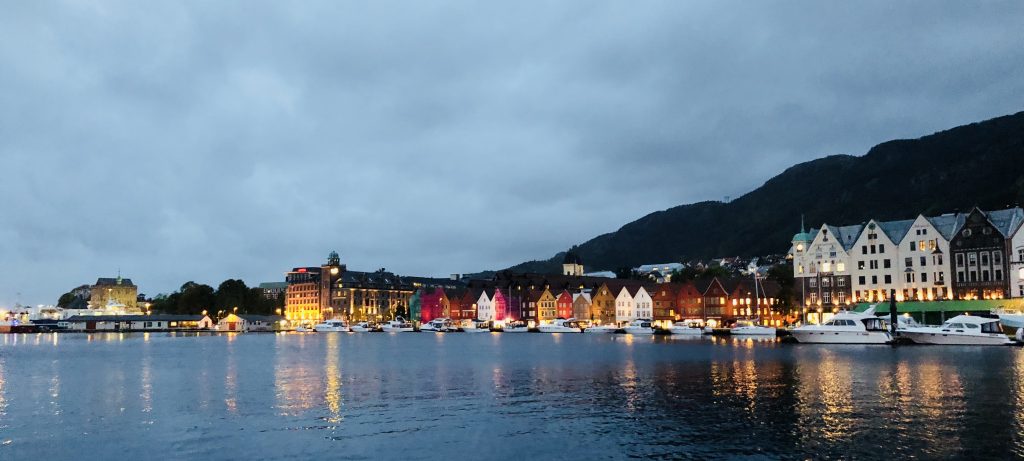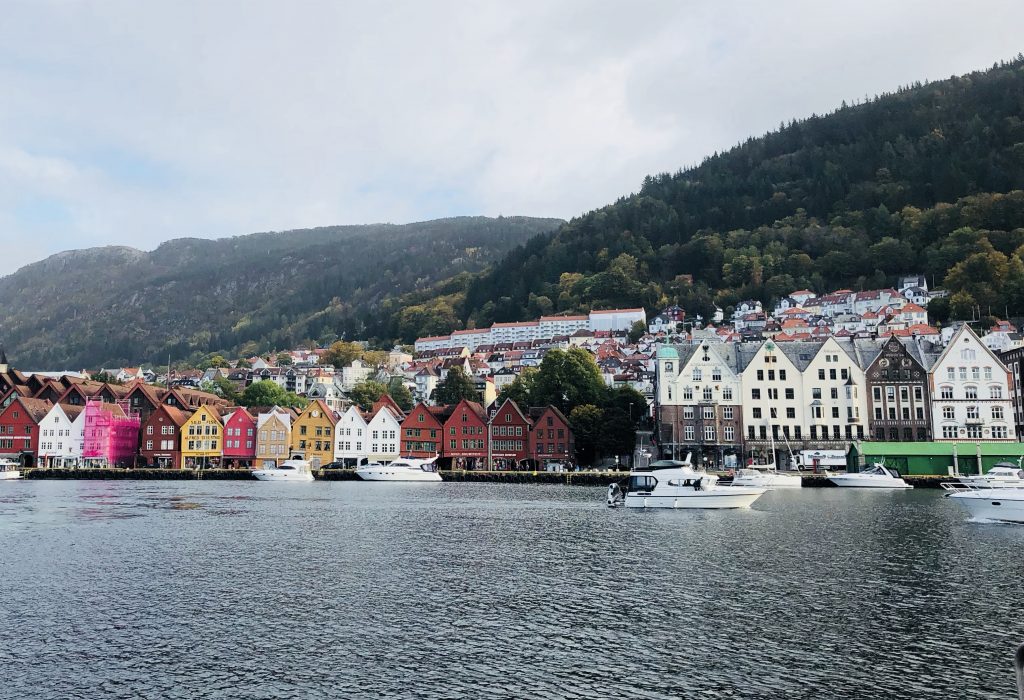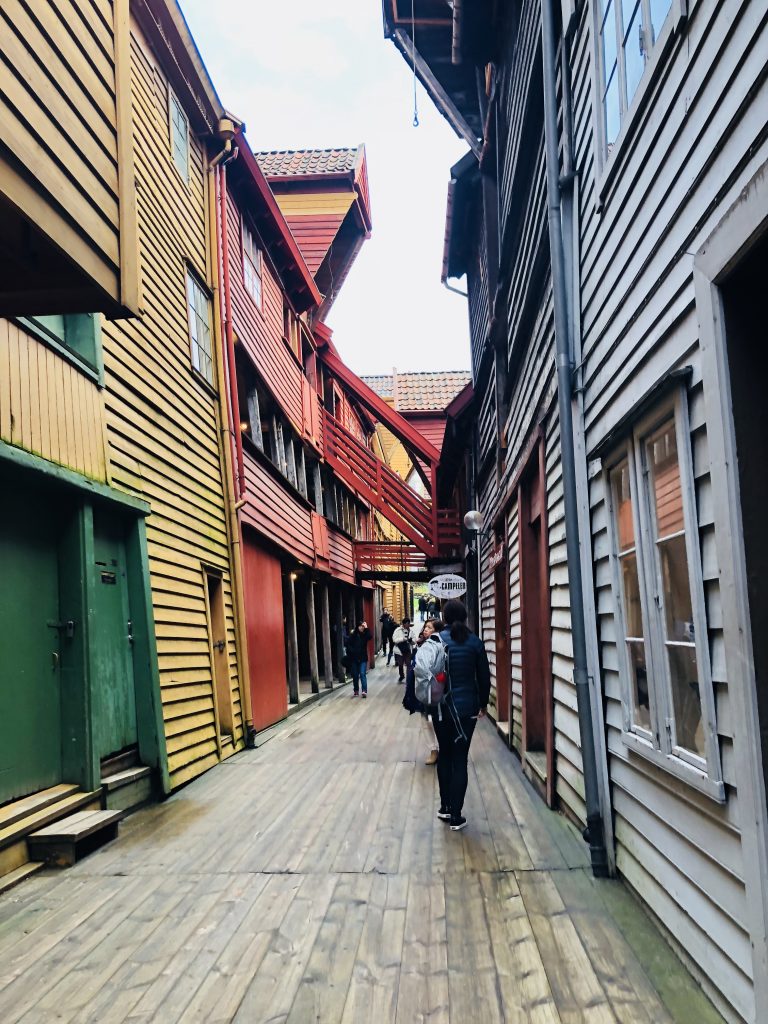 Fish market
In the same general area, we came across a covered market that sells fresh fish. We learned it has been a meeting place for buying and trading fish since the 1200s!  It also had several outdoor restaurants near it. One thing that surprised us that even though it is chilly out, there are so many places for outdoor seating.  The restaurants are in a tent with plastic sides that can lift up .  We stayed warm with heaters and blankets.  There was also a market being held across the street from the Fish Market and people were selling homemade foods and soaps.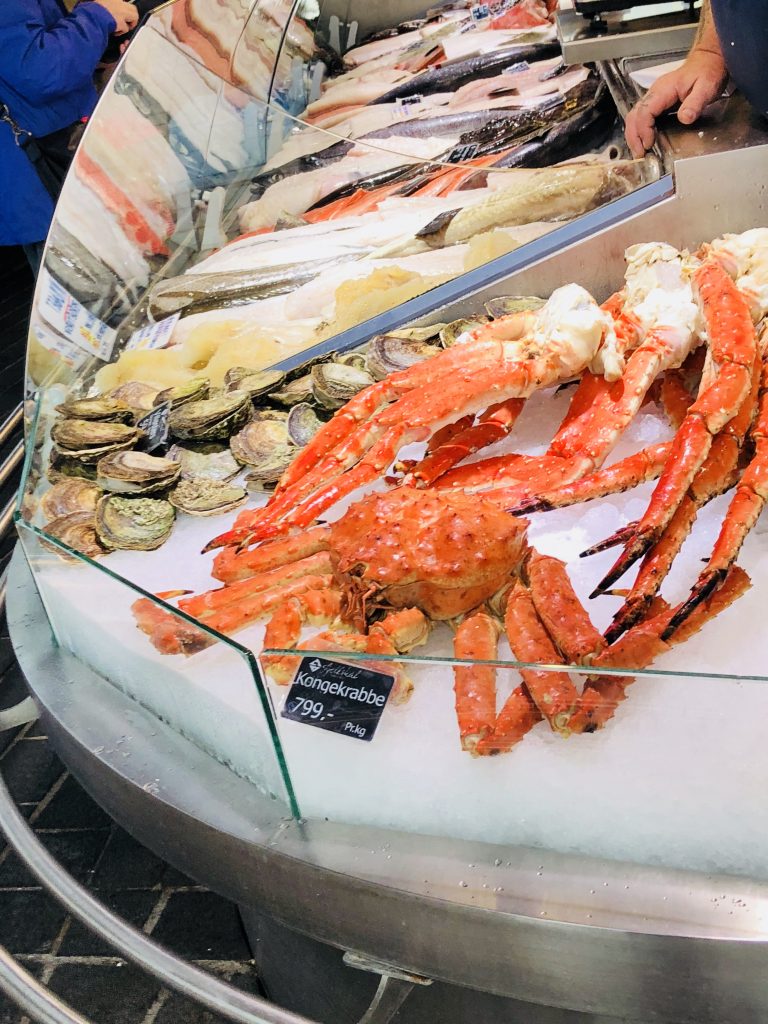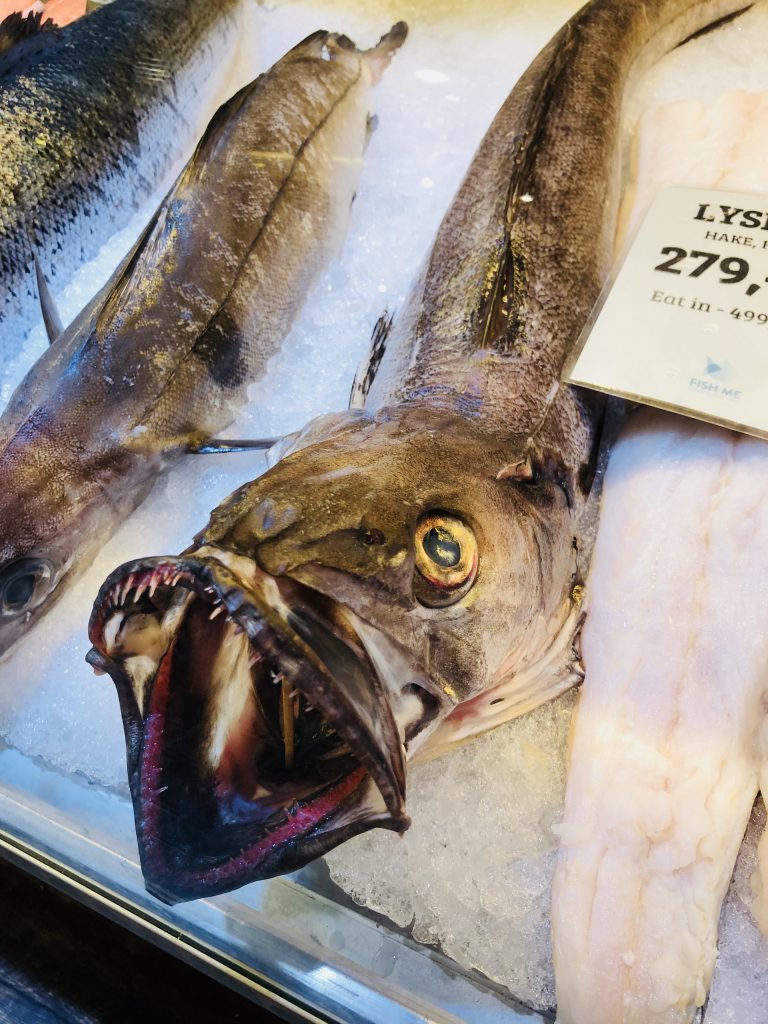 Lutefisk is popular at Christmas in Minnesota as well!  People travel over a hundred miles to get it near our hometown near the holidays.  Here you can eat it all the time.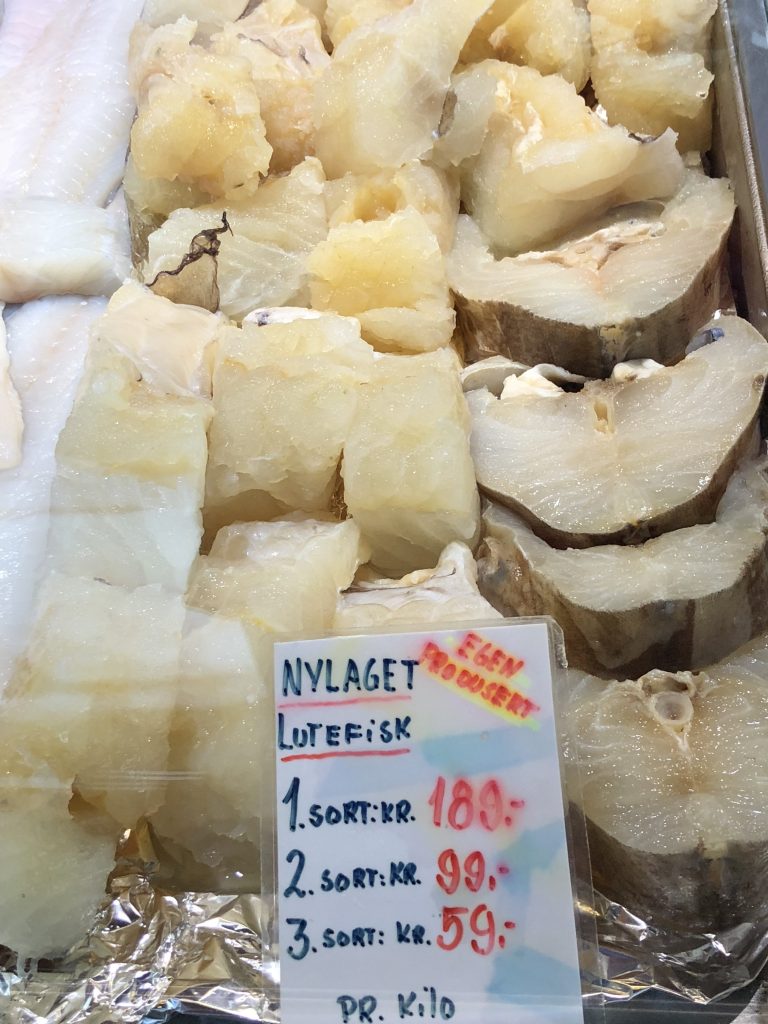 Exploring by foot
We spent many hours just exploring the city near the wharf by foot.  We found the architecture so interesting and beautiful.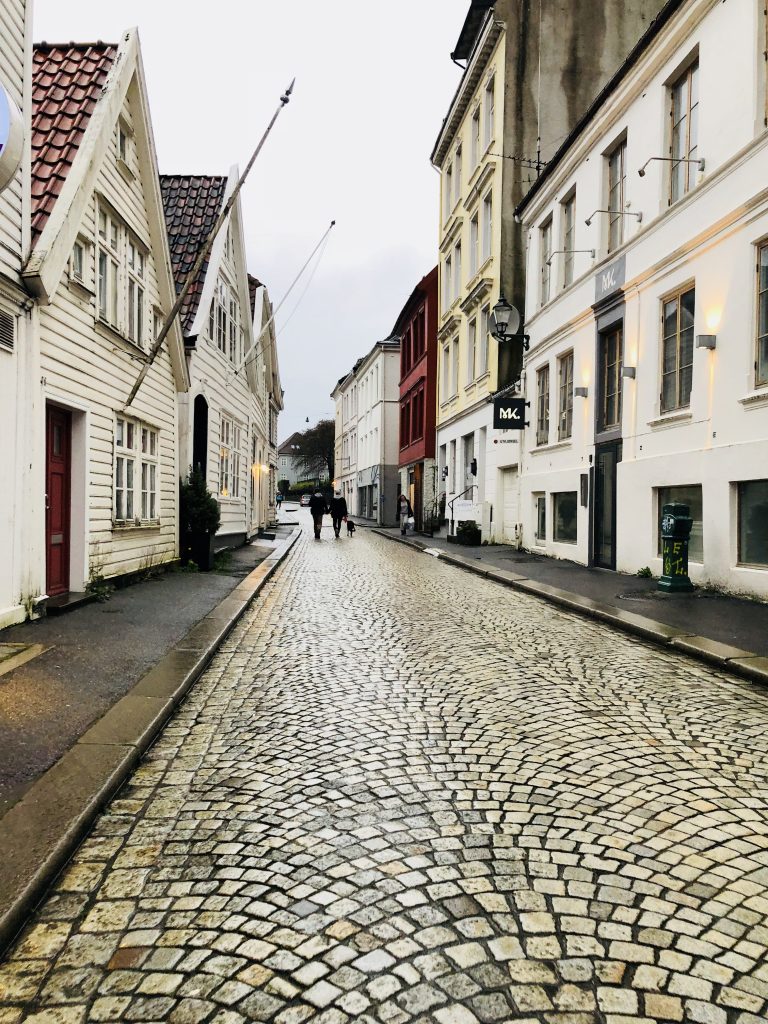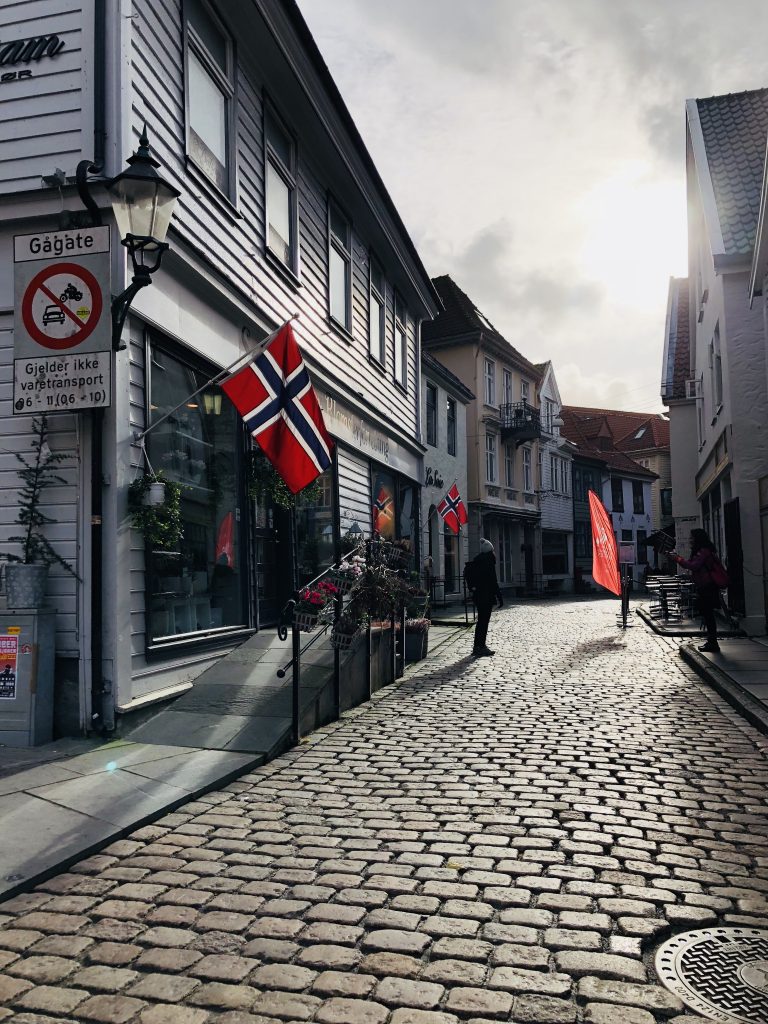 Fjord Tours
Of course being a port city there are many fjord tours that leave out of Bergen.  We had already taken one tour of a Norwegian Fjord by ferry when we traveled from Flam to Voss.  You can read about our adventure HERE.
Bergen Zoo
This was a great rainy day activity!  It was walking distance from our apartment and just a nice little place to walk around.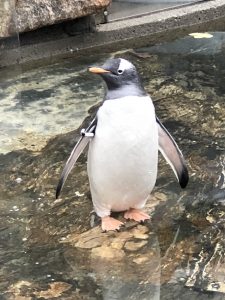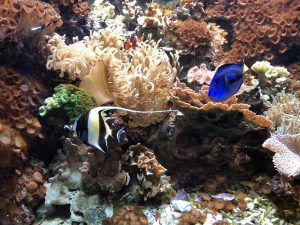 Restaurants
We ate inexpensive food like yogurt and bananas from grocery stores near our apartment.  We also found an inexpensive hot dog along the way that only cost a few dollars!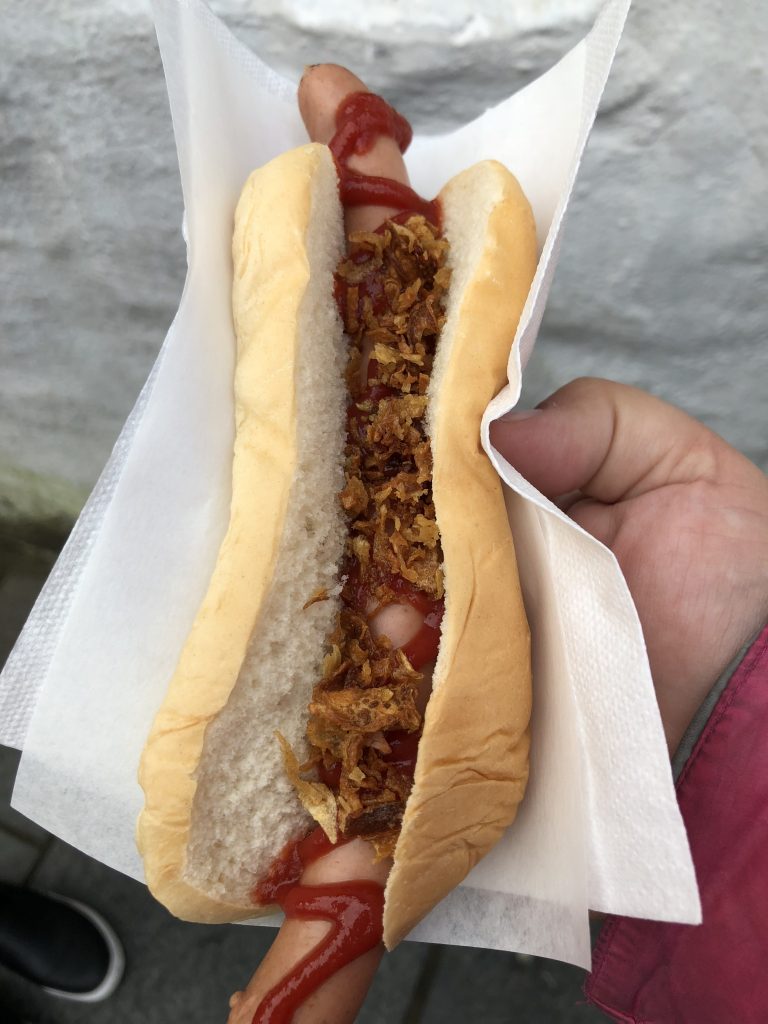 Our splurge meal was seafood near the fish market.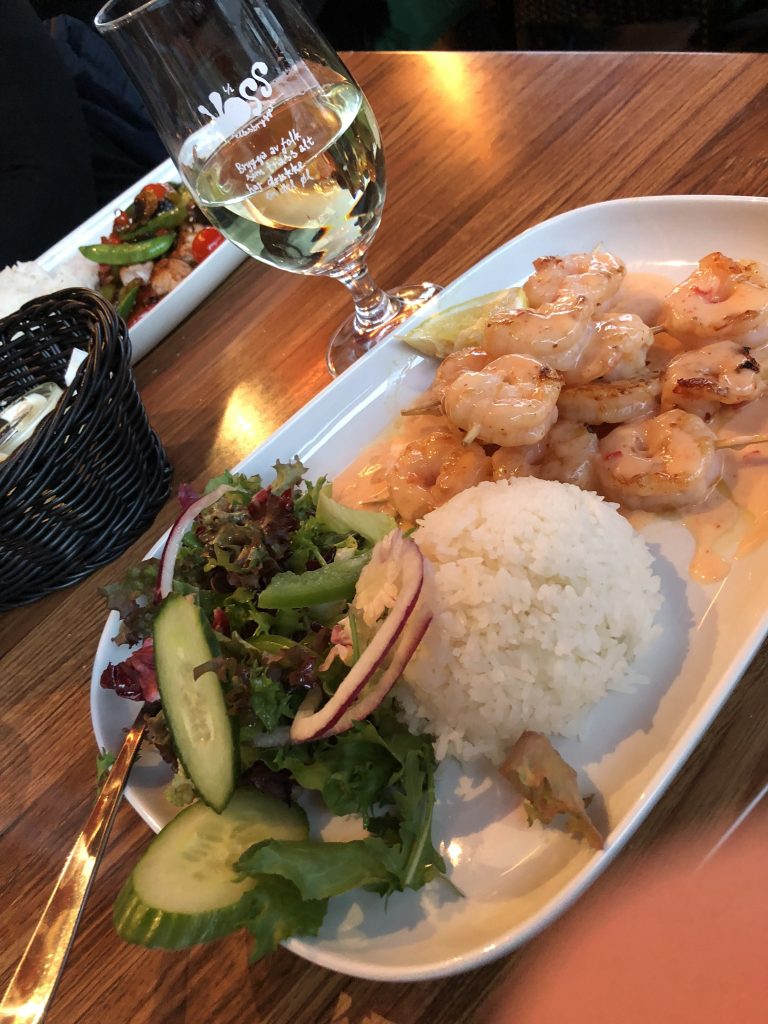 The highlight of our visit to Bergen was being able to meet a distant relative of my friend.  We had never met before, but she was so welcoming and engaging and we sat and talked for hours.  Trips are always made so much more special when you are able to talk with a local. We learned so much about living in Norway and it is so wonderful when getting that information first hand while eating seafood soup on a rainy day by candlelight in a historic restaurant in Bryggen.  It almost didn't seem real!
When it was time to leave Bergen, we walked to the light rail system just a few blocks from our apartment,  (it took us right to the airport in Bergen.)  We had booked a short flight from Bergen to Oslo which would bring us back home.
This was the last stop on our trip to Iceland and Norway.  I learned that these countries are very accessible and that although I would love to learn the language, it is easy to navigate without knowing it.  As two gals traveling together, we always felt safe and welcome everywhere we went.  Even though it was completely different then our everyday life of carting kids here and there, planning meals for our families and taking care of our husbands, it was exciting and worthwhile.  I encourage anyone else looking for adventure and a short distraction from everyday life to give this trip a try.
Here are some ways we saved money :
Use saved credit card rewards points
Be flexible in dates
Got an inexpensive multi-city air ticket.  We were alerted to the deal from Nextvacay.com
Bring snacks
Plan meals- We ate one larger meal a day and ate snacks to fill up.  Share meals
Go during non- peak season
Ask for discounts whenever you can
Stay at Youth Hostels
If you could travel anywhere outside of you comfort zone, where would it be? Comment below.
Planning a trip to Norway? Pin it!
Be sure to follow me on Facebook & Instagram – A Thankful Traveler
Happy Travels!
Jennifer