My friend and I decided to visit Iceland and Norway in October because we found an airline ticket that was too cheap to pass up! After leaving Iceland we headed to Oslo and from there travelled across Norway by train, boat and plane.  Our first stop after leaving Oslo was a stay in Flam.   To learn more about how we booked our transportation to get to Flam, read HERE.  We went during the low tourism season and it was a quiet town for sure.  Some of the shops were not open and there were few people around. We stayed at the Flam Youth Hostel,  which was just a short walk across the bridge from where you get off the train.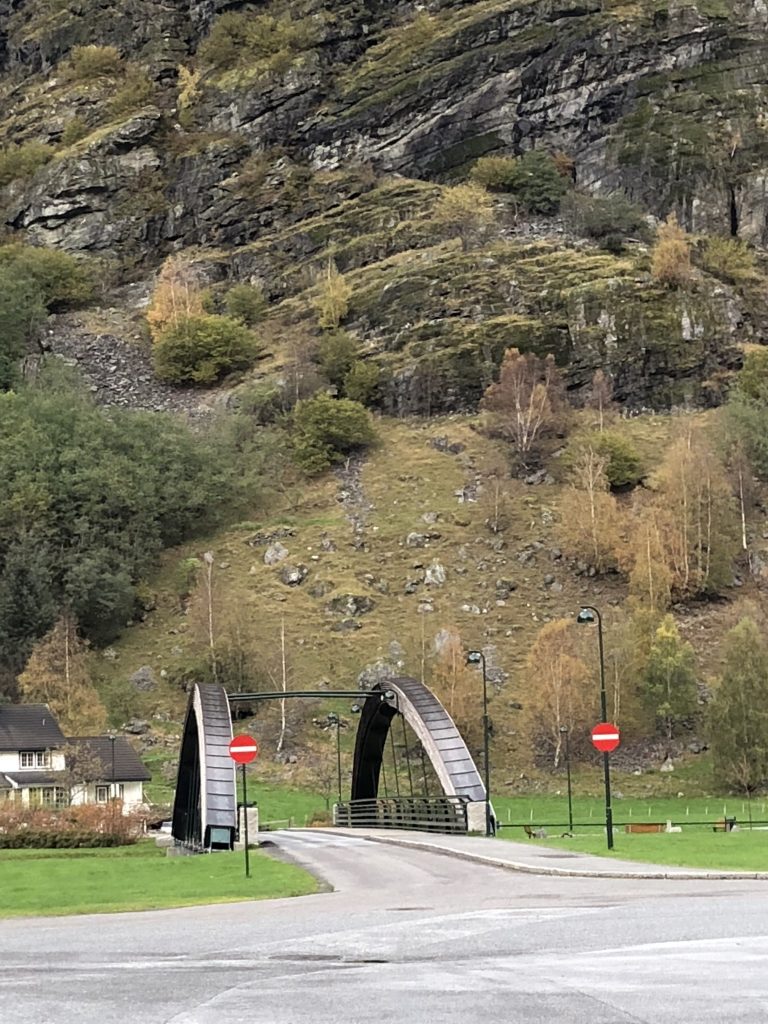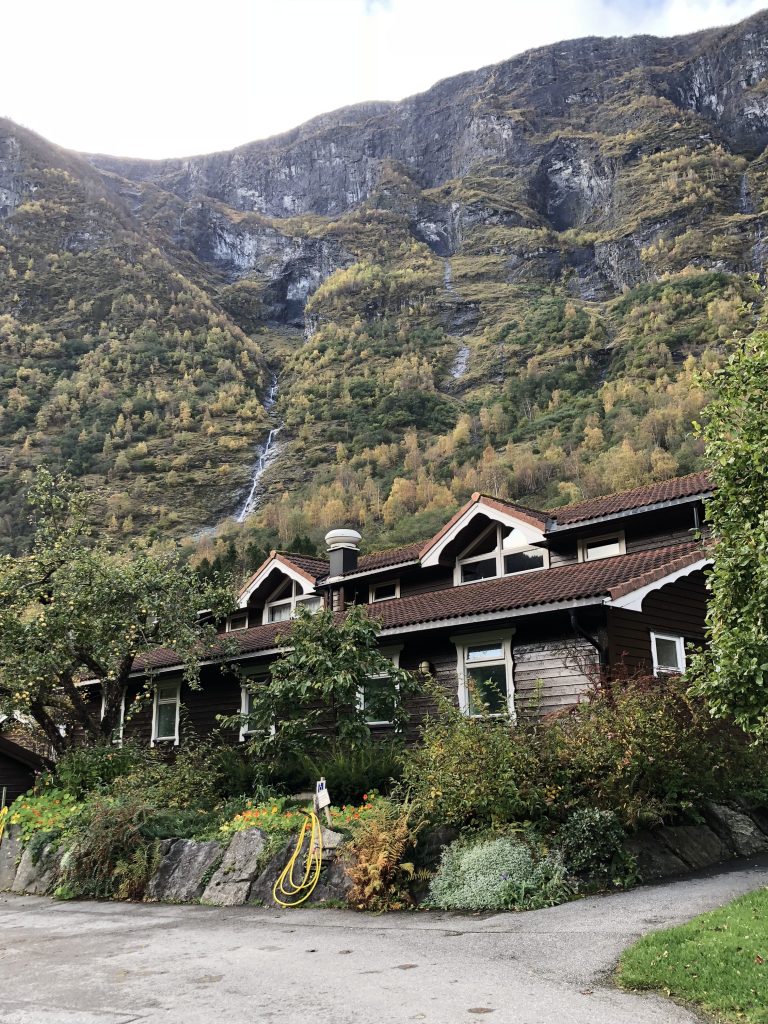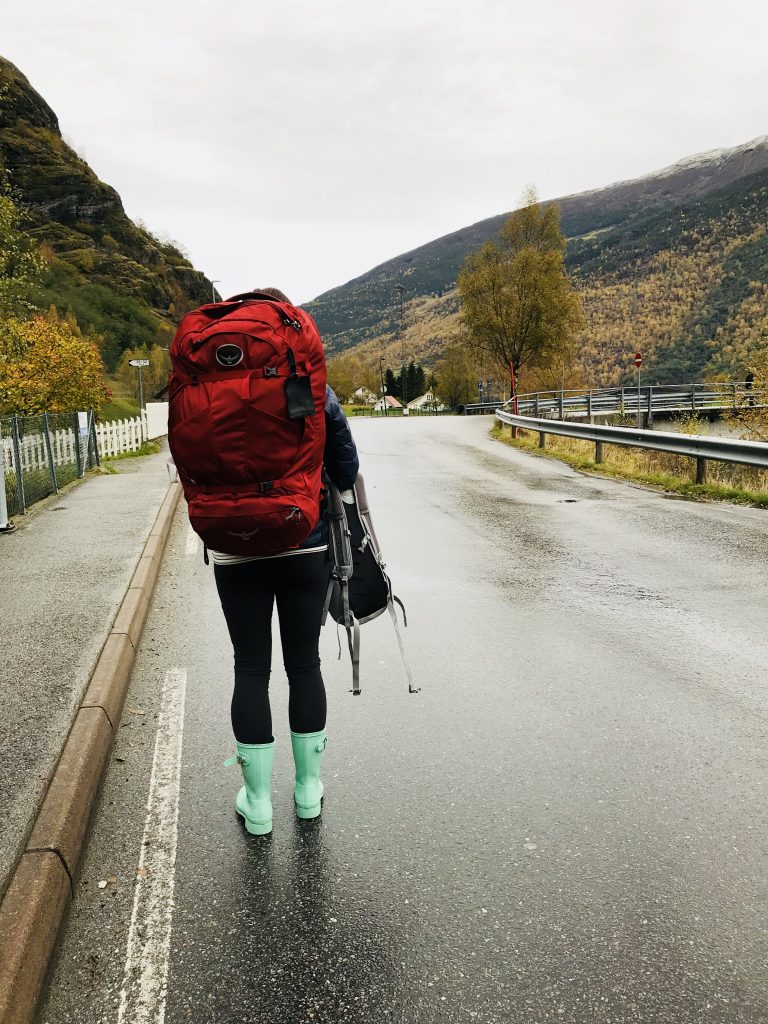 Accommodations
Being this was the first hostel we had ever stayed at, we did not know what to expect. Here is a link where you can book all International Youth Hostels.  Even though it cost a little more, we felt much more comfortable staying in a private room versus a shared room.  This hostel had multiple buildings and we were on the top floor of one with a shared bathroom and kitchen. It was nice to have a kitchen so we could make our own coffee.   There were showers in a common bathroom downstairs.  It was worth the inexpensive price to stay in a youth hostel, especially during the quiet season.  I am not sure how I would feel about it if they were a lot of people around because the walls of our room were pretty thin, but we only saw one other person in our building while we were there.
Activities
In October there is not as much to do in Flam as there would be in the Summer.  Two popular attractions are the Flambama railway (which we took to Flam) and the Fjord tour, (which we would be taking to our next destination)(To read more about how to book these methods of transportation and what to see click Here). It is a city surrounded by beautiful mountains and water on one side, and in the summer hiking and biking are also popular activities. To read more about all the things to do in Flam, check out their tourism website.
Food
We ate dinner at the Flamsbrygga, which is attached to the Flamsbrygga Hotel.   It had a brewery and beautiful rugged décor.  We misread the menu and accidently ordered a Goat Cheese burger- we thought it was "Veggie Burger" and ordered water to save money.   Still the meal cost us $20 USD each, which is why we continued our plan of eating just one meal a day.  I  am sure the real burgers were fantastic, and our goat cheese burger would have been amazing if we had liked goat cheese. We figured out afterwards that Chevre must mean Goat Cheese in Norwegian.  We learned something new!  There is a grocery store in town where we bought snacks for the next day, and we also discovered a cute little coffee shop (Flam Bakery) near the Ferry departure that had fresh pastries to grab before getting onto the Ferry the next morning.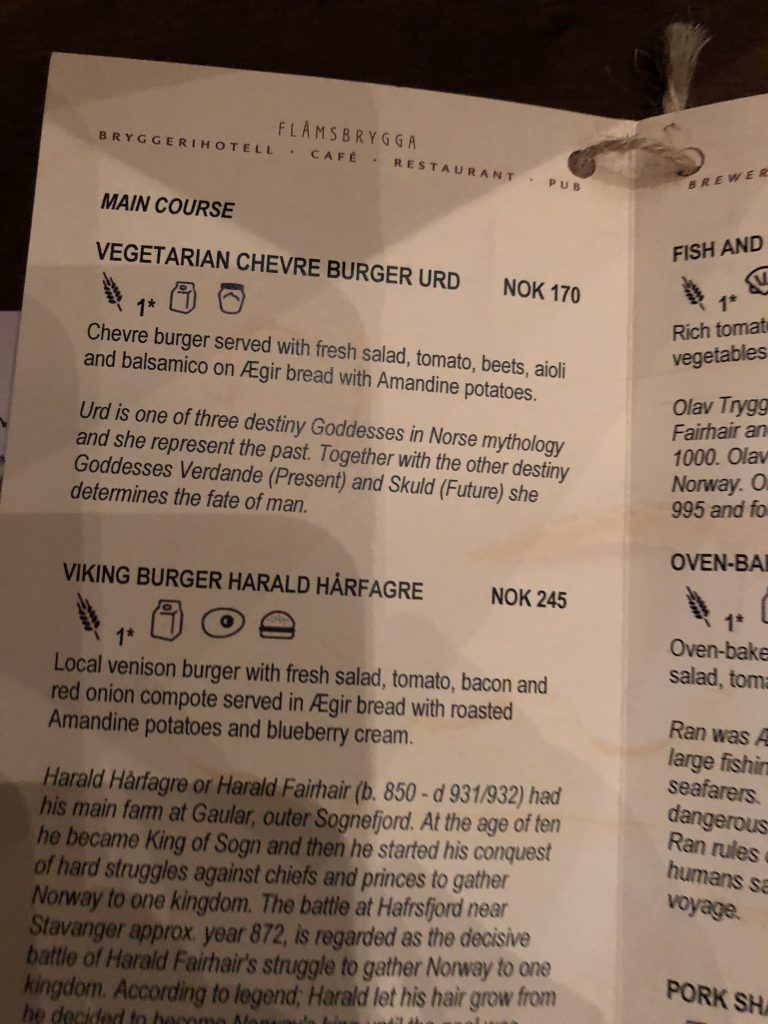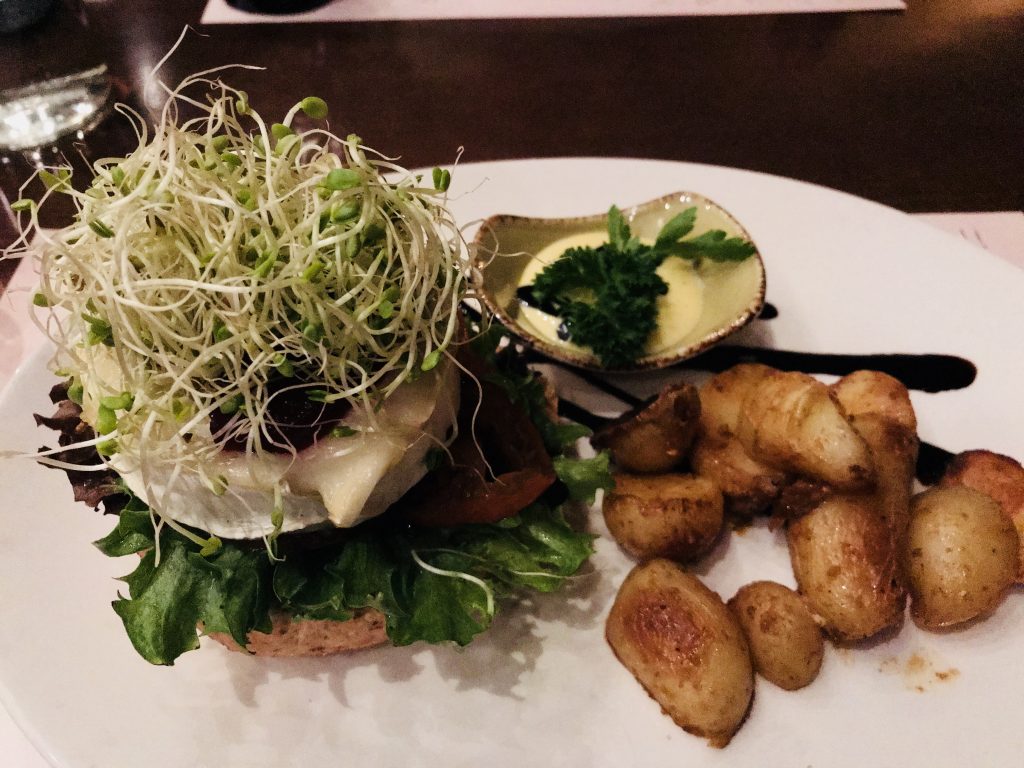 Transportation
From Flam, we headed towards Gudvangen, which would lead us to Voss and get us closer to our final destination Bergen.  The ferry from Flam to Gudvangen is a beautiful ride through the UNESCO World Heritage fjords.  The location reminded me of the fjords in Alaska, but here there were little towns and houses along the way.  As we passed I imagined what it would be like to live there.  So calm and stress-free.  No driving kids all over the place to their activities.  Wow- I could not imagine!  I also wondered what the people in these houses do for a living- besides possibly farming.  They seem to be living the simple life.  There was plenty of room to store our big backpacks and there is a small restaurant on board as well.  We were free to roam the 3 floors and when we could handle to wind and cold, stand at the top and enjoy the beautiful unobstructed landscape.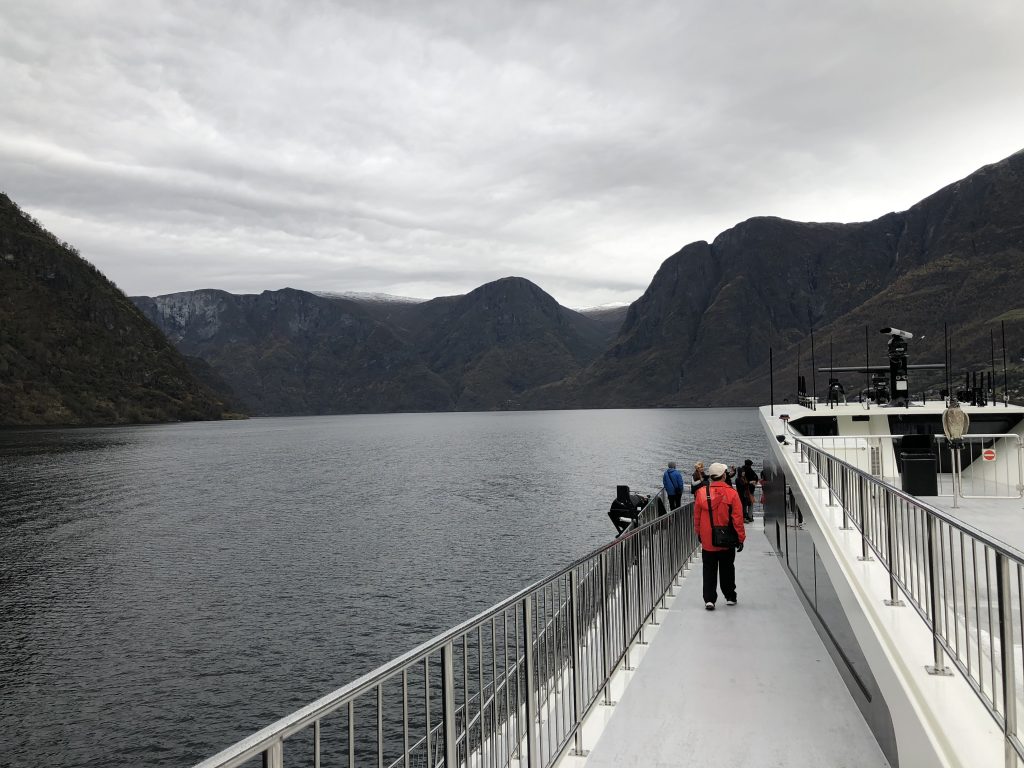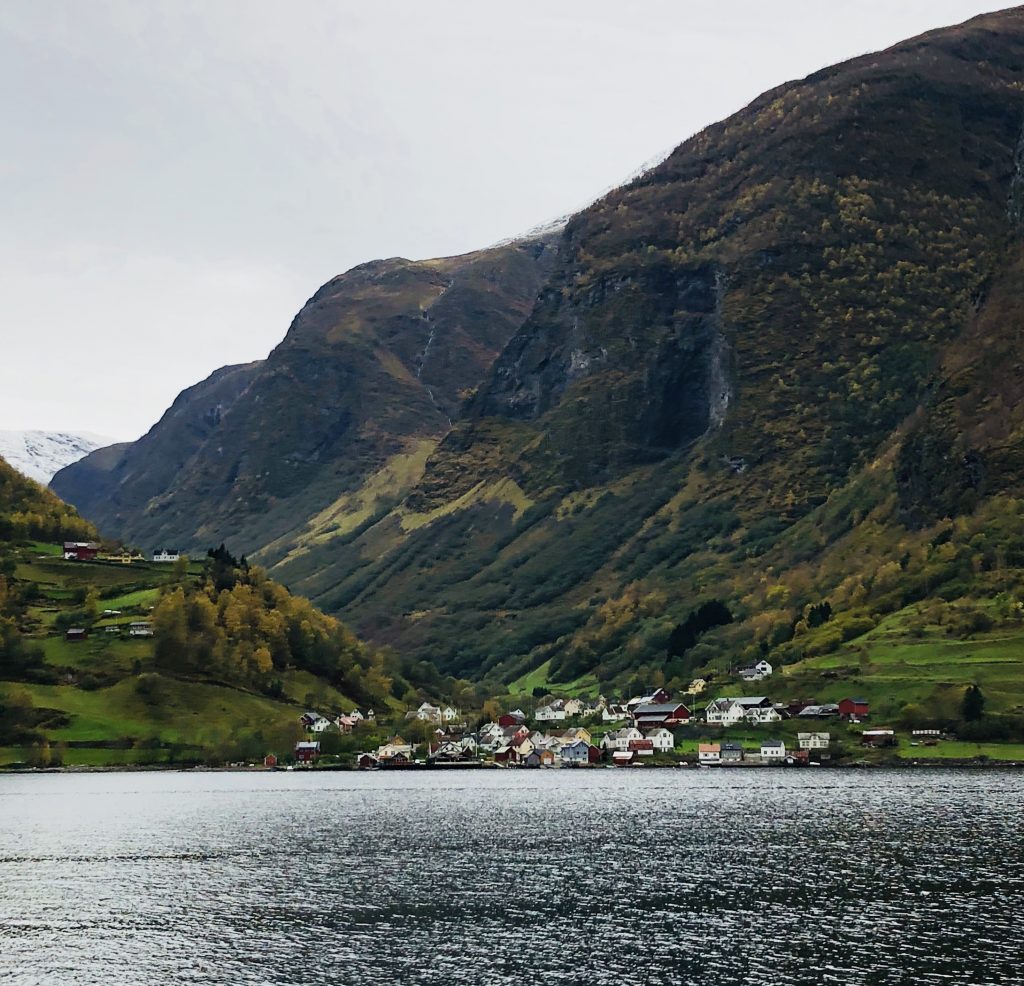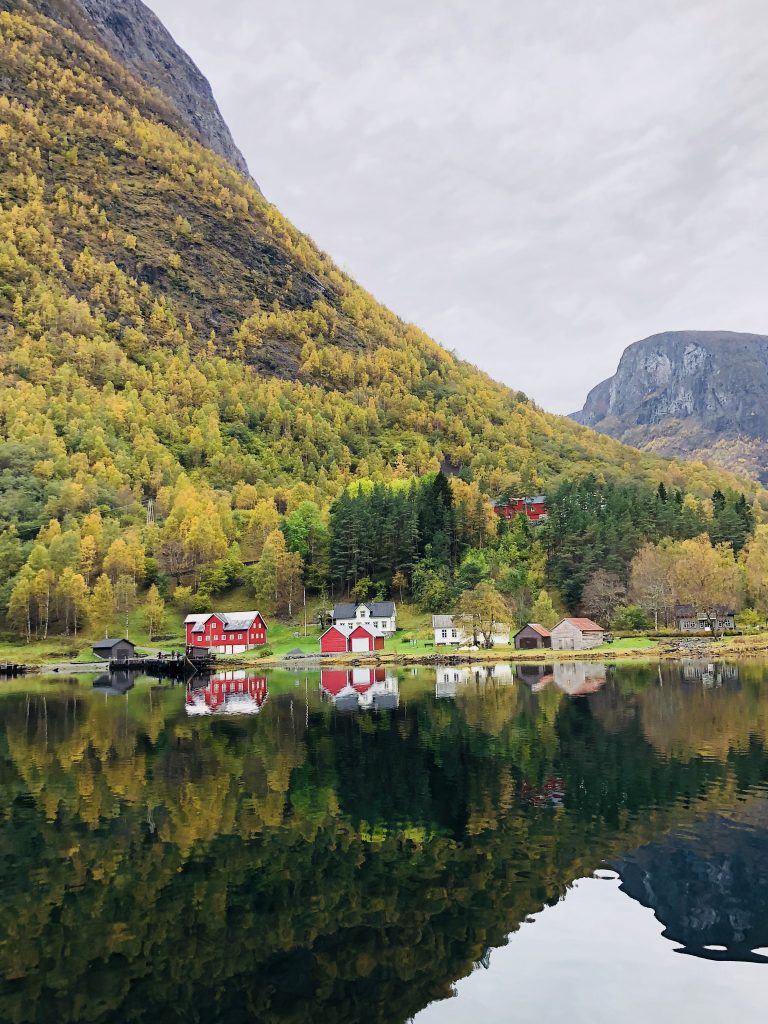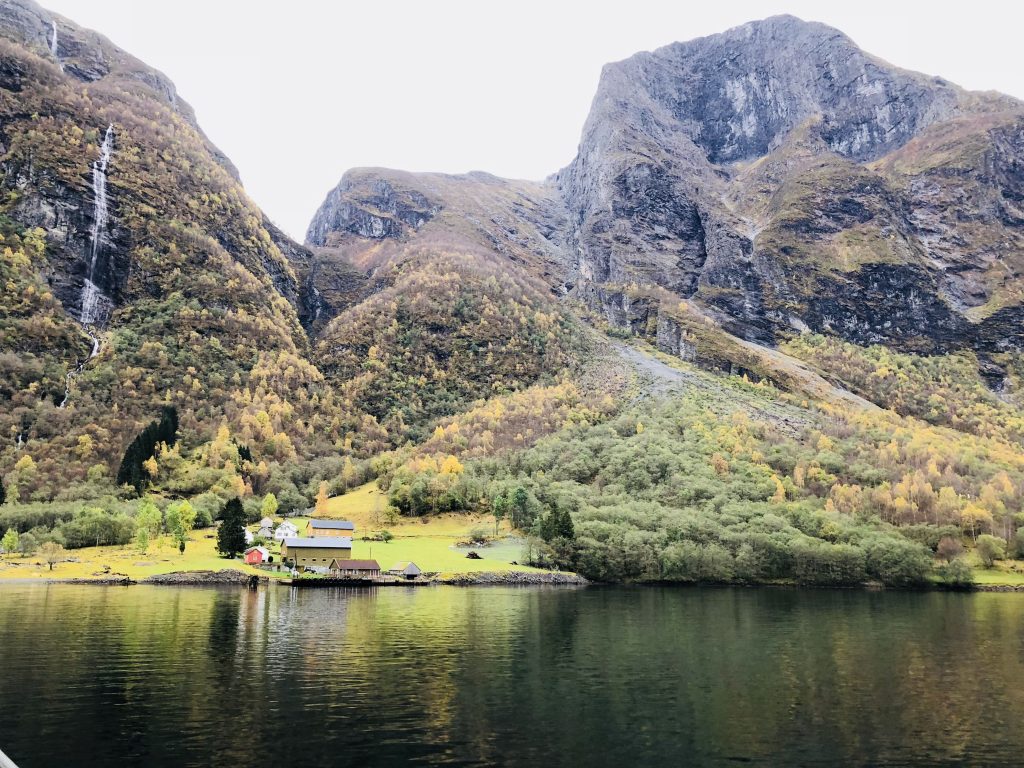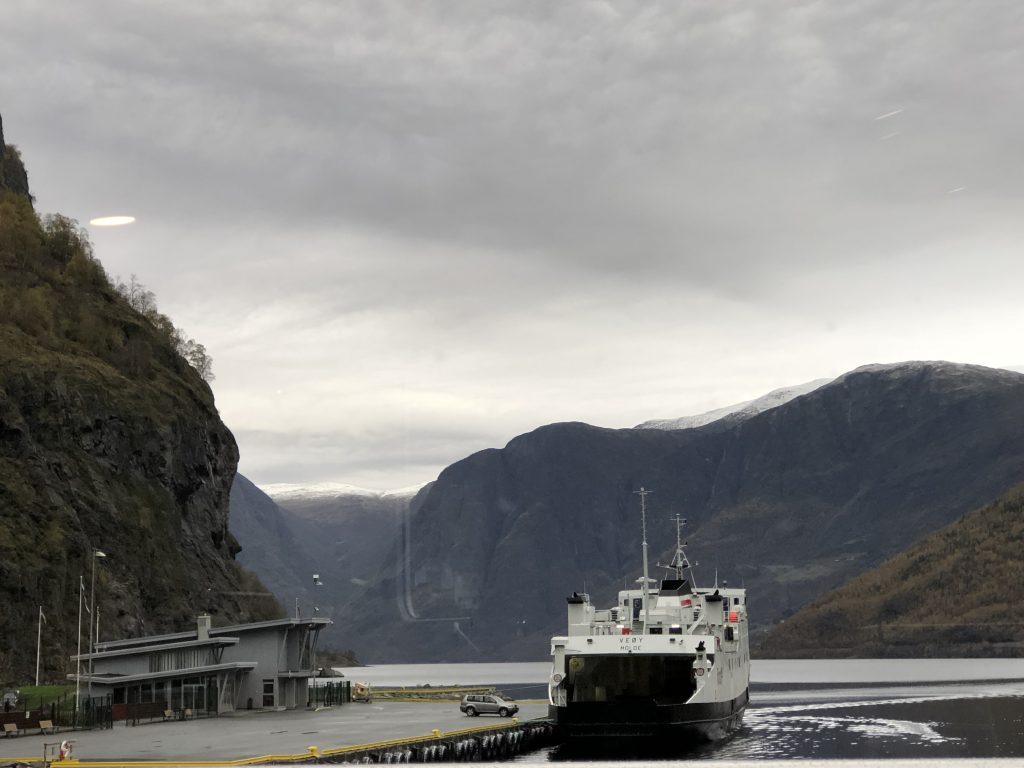 We got off the ferry in Gudvangen and explored the gift shop until the bus was ready to leave.  It was raining and most of the shops in the town were closed for the season. It was still a beautiful place to see.  We then took the bus to Voss which would be our stop for the night.  To learn more about our time in Oslo, read HERE.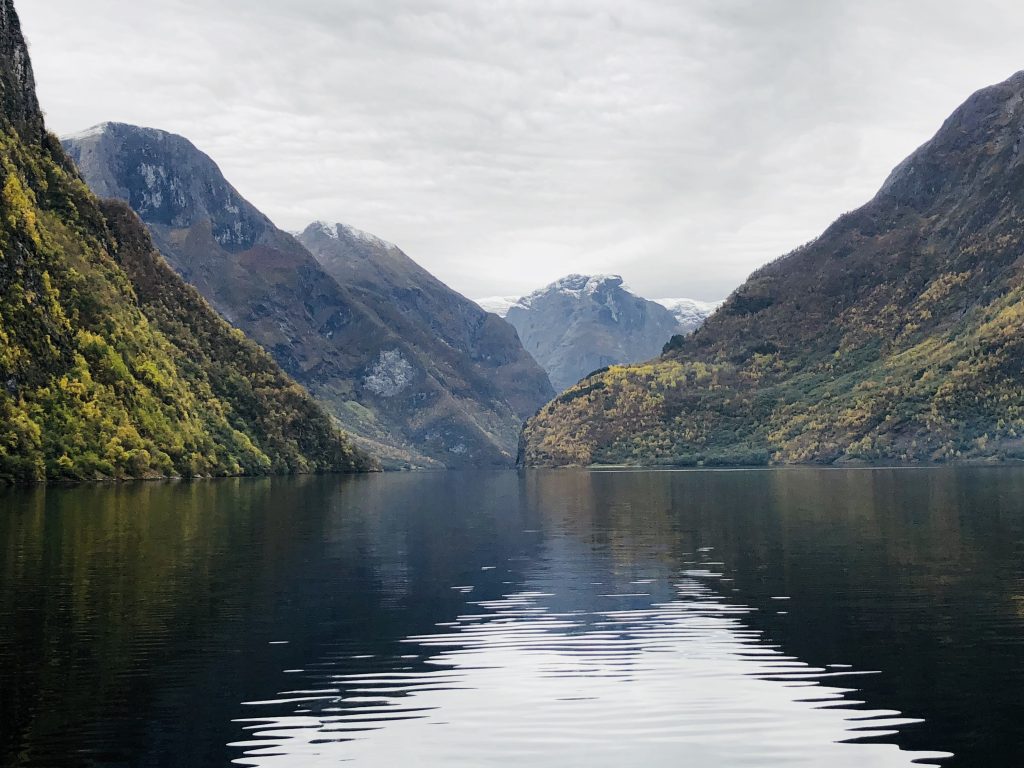 If I were to plan this trip again, I would probably have spent an extra night in Oslo and spent the afternoon in Flam, instead of an overnight stay in October.  Because of the Ferry schedule, and not wanting to have to travel to our next destination in the dark, this is what we chose to do. Flam is a quiet and peaceful place for sure without all the tourists and we were thankful to be able to visit.  The ferry ride through the fjords was amazing and majestic.  If thinking about traveling in October, be sure to bring warm clothes, a raincoat and rain boots.  Even if the weather does not always cooperate, it is a beautiful place to visit and a must for your bucket list!
Adding Norway to your Bucket List?  Pin this!  Need help planning your trip?  Check out my other Norway trip Blog posts!
Happy Travels!
Jennifer