When my friend and I decided to visit Norway in October, we had no idea where to go or where to stay.  After doing some research we came across the popular  travel planning website that books transportation between destinations in Norway.  Norway in a Nutshell website is a one stop site where you can book train, bus and boat tickets that will get you from Oslo to Bergen. (from the capital in the east  to the west coast) This service is wonderful and does all the legwork in booking tickets and picking appropriate times for efficient travel. You pay for all of your transportation costs at once, and you can even add stops in cities along the way and book accommodations as well. Be sure to check out the Norway in a Nutshell website, which is what I would recommend using if you will be traveling at peak season (summer), or if you have a short amount of time to travel this journey (a day or 2).
If you have some flexibility and want to play it by ear a bit, I hope to be able to help in your planning.  Because our trip would be spread out over 4 days, we did not want to commit to train departure times when we did not have to, so instead of using this service, we ended up booking our tickets on our own.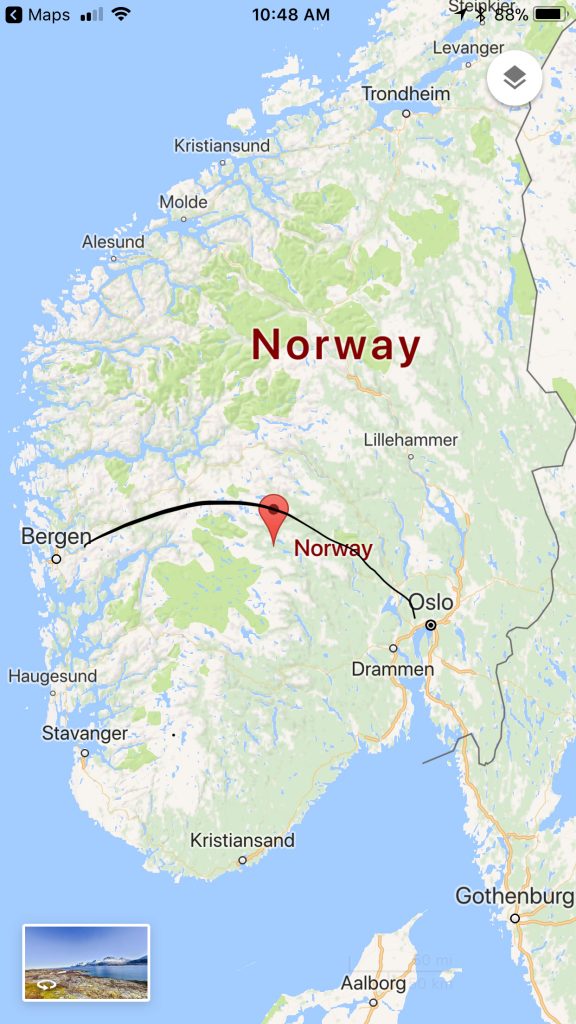 After extensive research,  I  figured out how to book the tickets from Oslo to Bergen on my own and in the end, I did a price comparison and it was only about $25-$30 USD less to do it then using the all in one site . It was not that we wanted to save money, we just wanted some flexibility over the 4 days.   If you are thinking about traveling this trip route, check out these tips!
Oslo-Lufthalven (airport) to Oslo
Our adventure in Norway started in Oslo after flying in from Iceland. You can read about that trip report HERE.   The Olso airport is easy to navigate.  After getting our bags, we followed the signs and were able to buy train tickets at a kiosk right at the airport (Oslo- Lufthalven is the name of the train station at the airport)-using a credit card in the machine. The seats are not assigned and we just walked thru the train cars until we found an open seat.  It was about a 25 minute ride to the Oslo-S Station (downtown) and was not scenic so I would not worry about which side you are sitting on.  We arrived in a large building that had many other train departures.  We exited the building and walked just a few short blocks to our hotel.  When booking a hotel, be sure to find one close to the Oslo-S station. Read about our time in Oslo HERE.
Oslo-S to Myrdal to Flam
The  next day we walked back to Oslo-S station and printed off our tickets (which I had pre-bought before leaving home) at the ticket kiosk. (bring a copy of the confirmation code.) Here is where you are able to buy tickets for both of these legs ( Oslo to Myrdal  to Flam) (Myrdal is just a train station in the middle of the mountains and there is no city there to explore.)
This first part, Oslo to Myrdal, had assigned seats and it was recommended we buy them ahead of time, because they do sell out.  Also, the ticket prices seemed to vary and cost less the earlier I looked.  (If booking from the US, a credit card rarely works and I had to use paypal).  After researching we discovered that it was more scenic to sit on the left side of the train from Oslo to Myrdal.  We did find this to be true. The train ride was about 6 hours and beautiful.  There is a food car where you can buy sodas and sandwiches.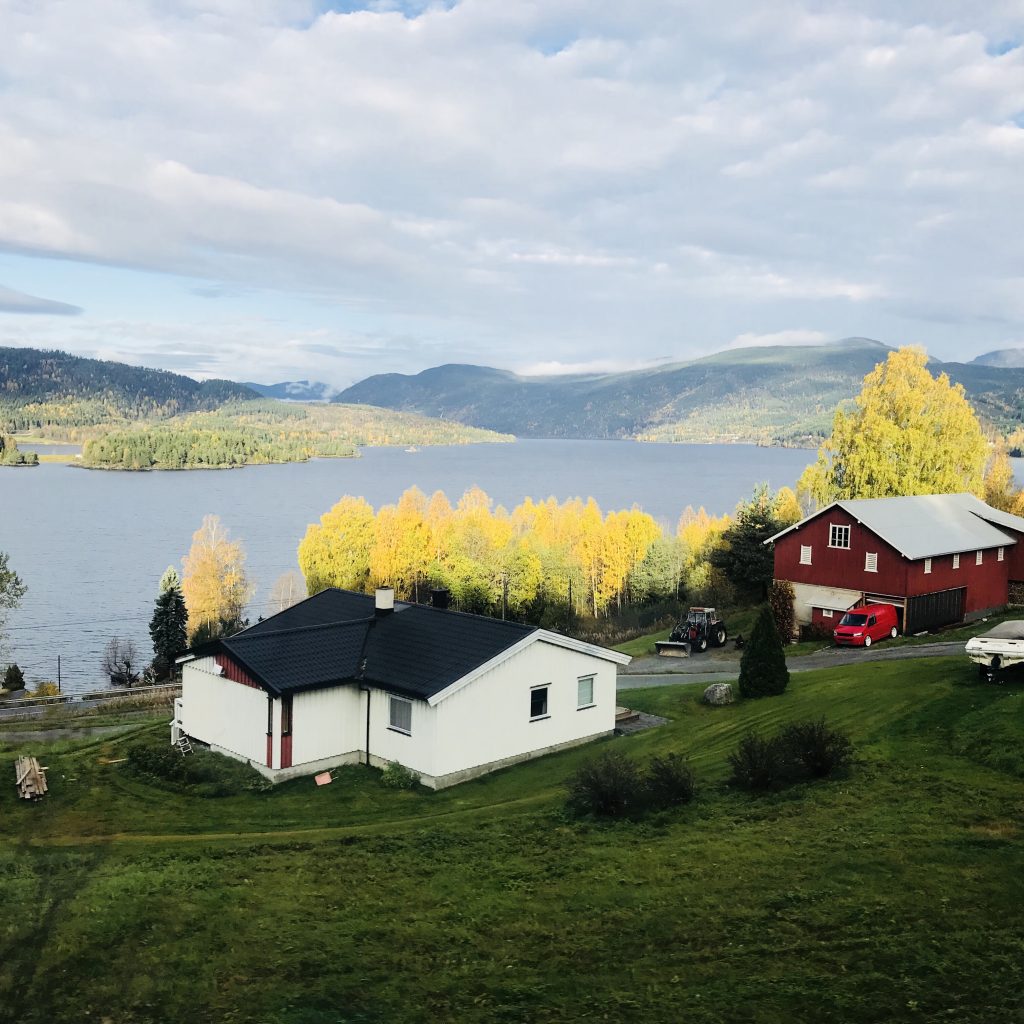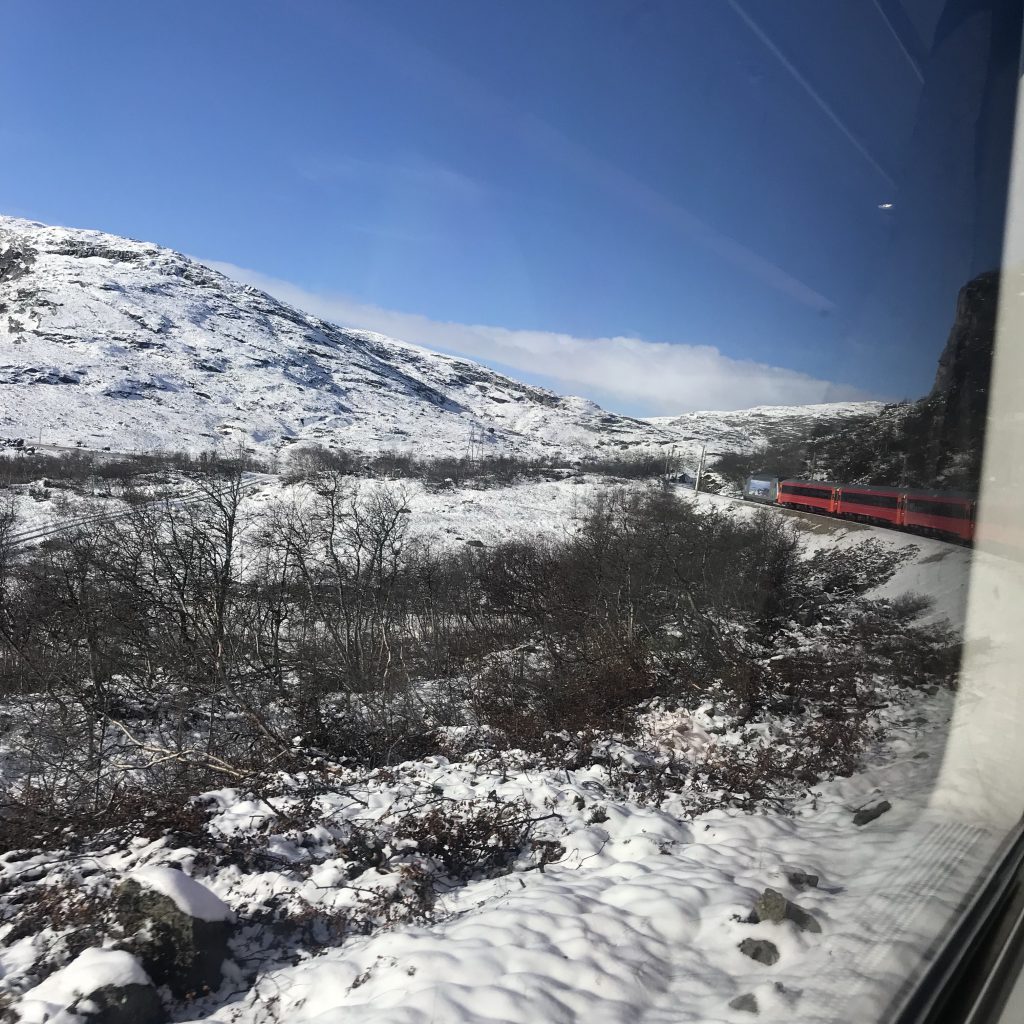 The second part (Myrdal to Flam) is the famous scenic train ride on the Flamsbana.  This train ride does NOT have assigned seats, in fact we stood for a lot of the 30 minute downhill journey trying to take pictures out of the open windows.  If you do have to choose seats and it is a packed train, it is best to be on the  left side.  (We made the mistake of assuming the train would be traveling in the same direction that we had just come, from Oslo.  This is not the case, however,  the train goes in the opposite direction so take that into consideration when choosing your seats when boarding. The trip from Myrdal to Flam is amazing and scenic.  There is a stop at a waterfall and you go through 20 tunnels.   The train ends in Flam and this is where we stayed the night. Read about our time in Flam HERE.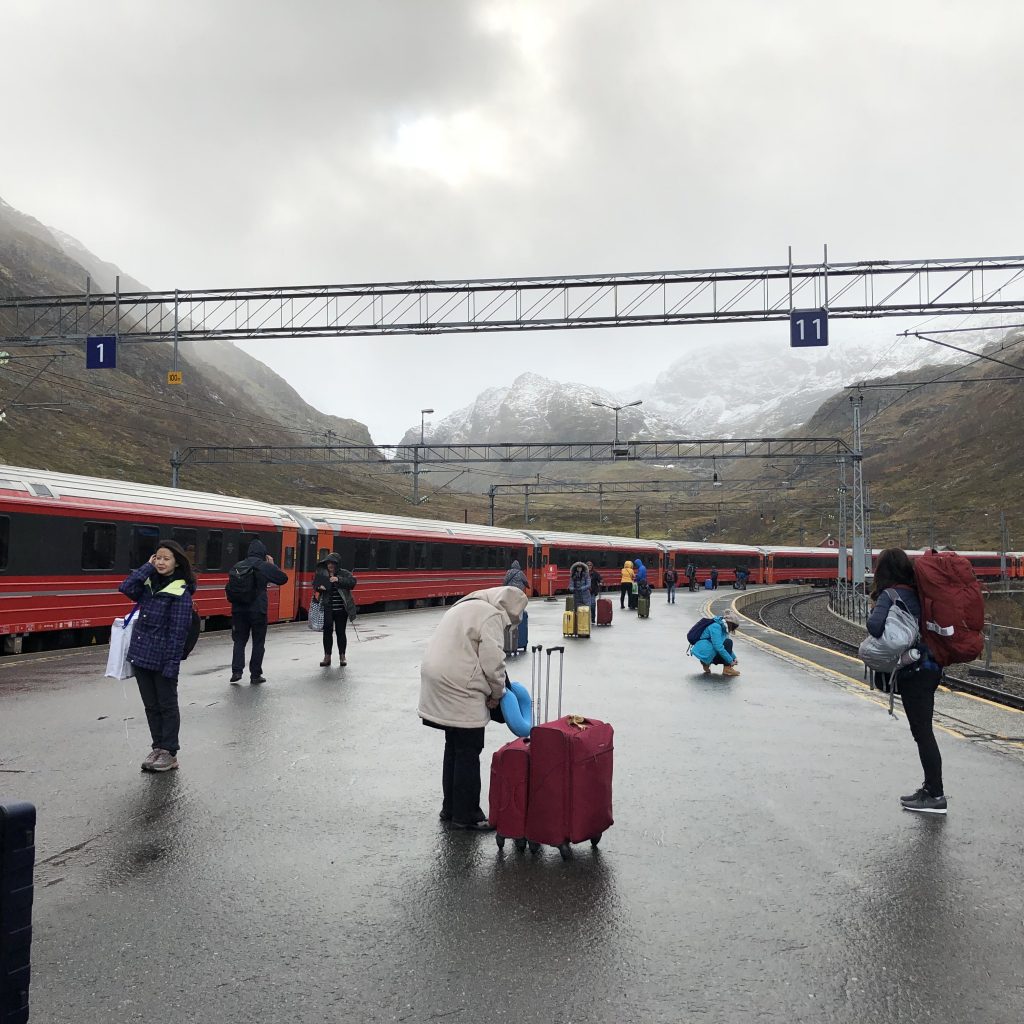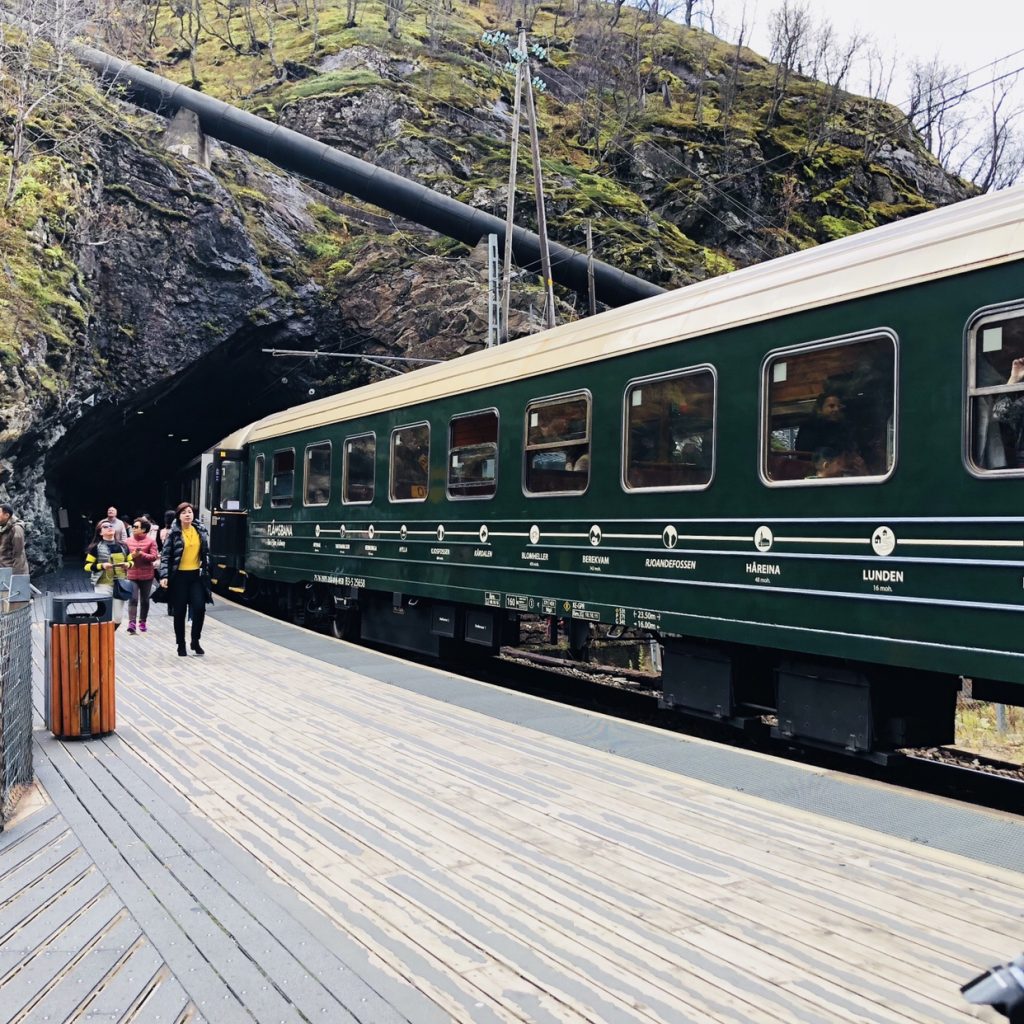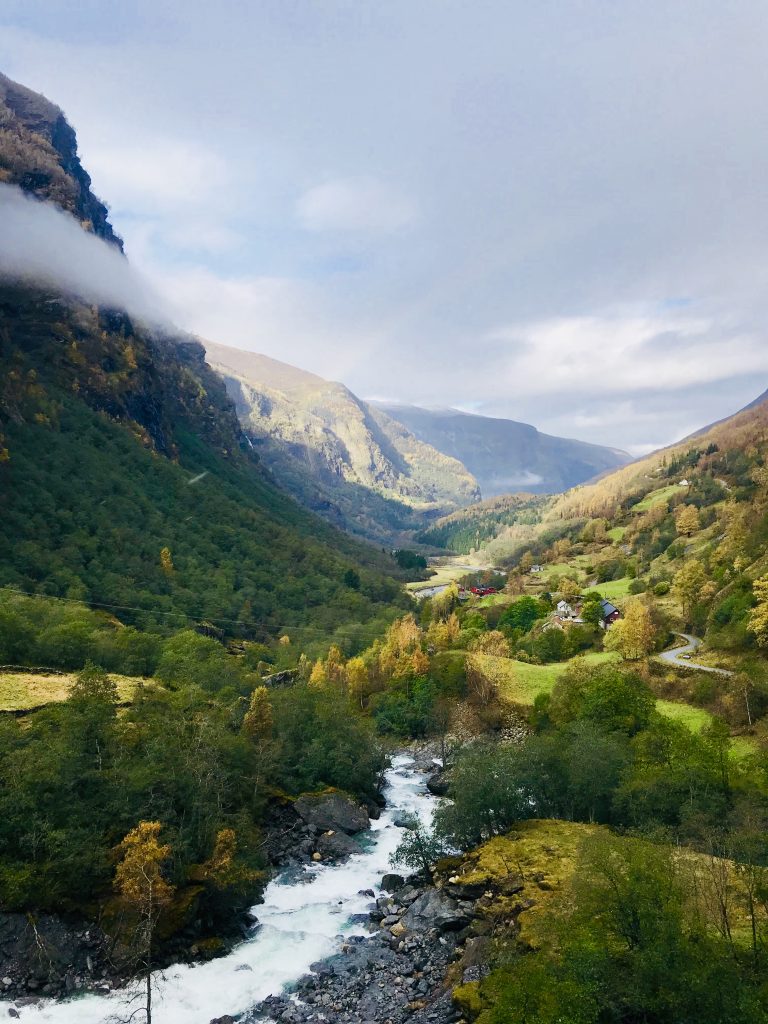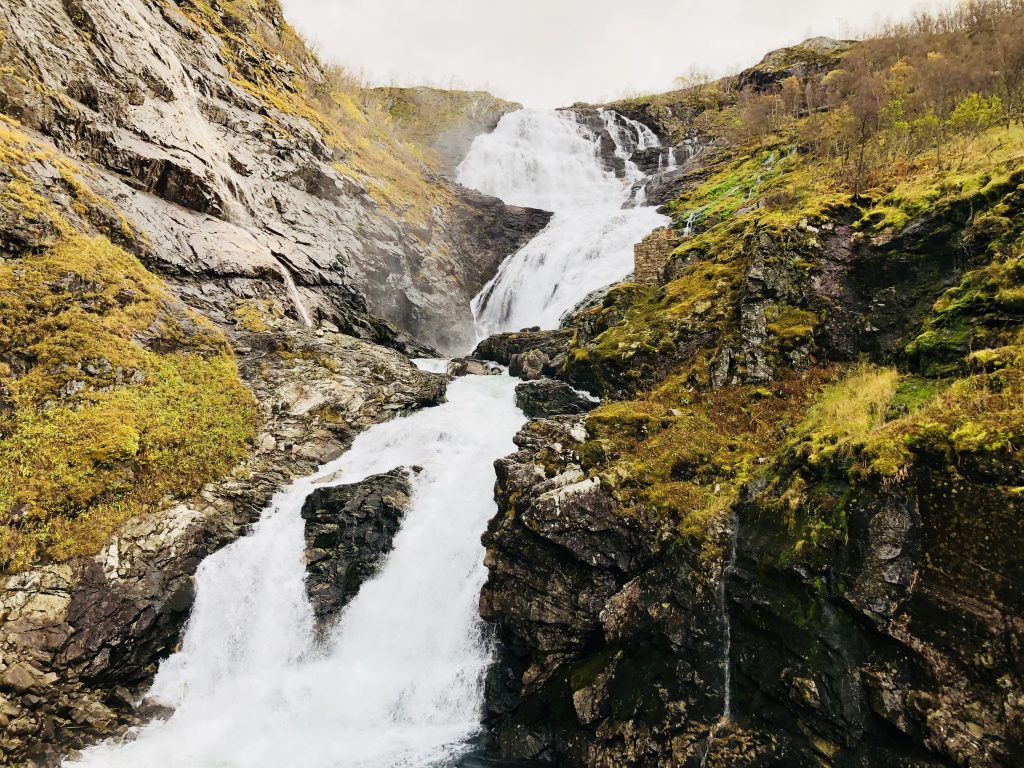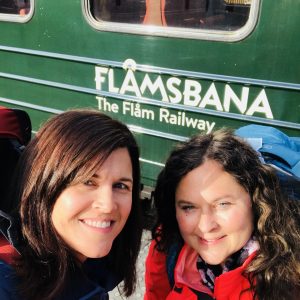 Flam to Gudvangen
We had also prebooked our next part of the trip as well, which was a ferry ride (fjord cruise) from Flam to the town of Gudvangen.  Pre-booking would have been more necessary if we were  traveling at peak tourism time. The ferry is right next to where the train lets you off.   In October we had just one choice of departure times but still decided to book ahead of time and there were plenty of open seats.  Tickets for this ferry can be found here.  (Fjordcruise Nærøyfjord which goes from Flam to Gudvangen.)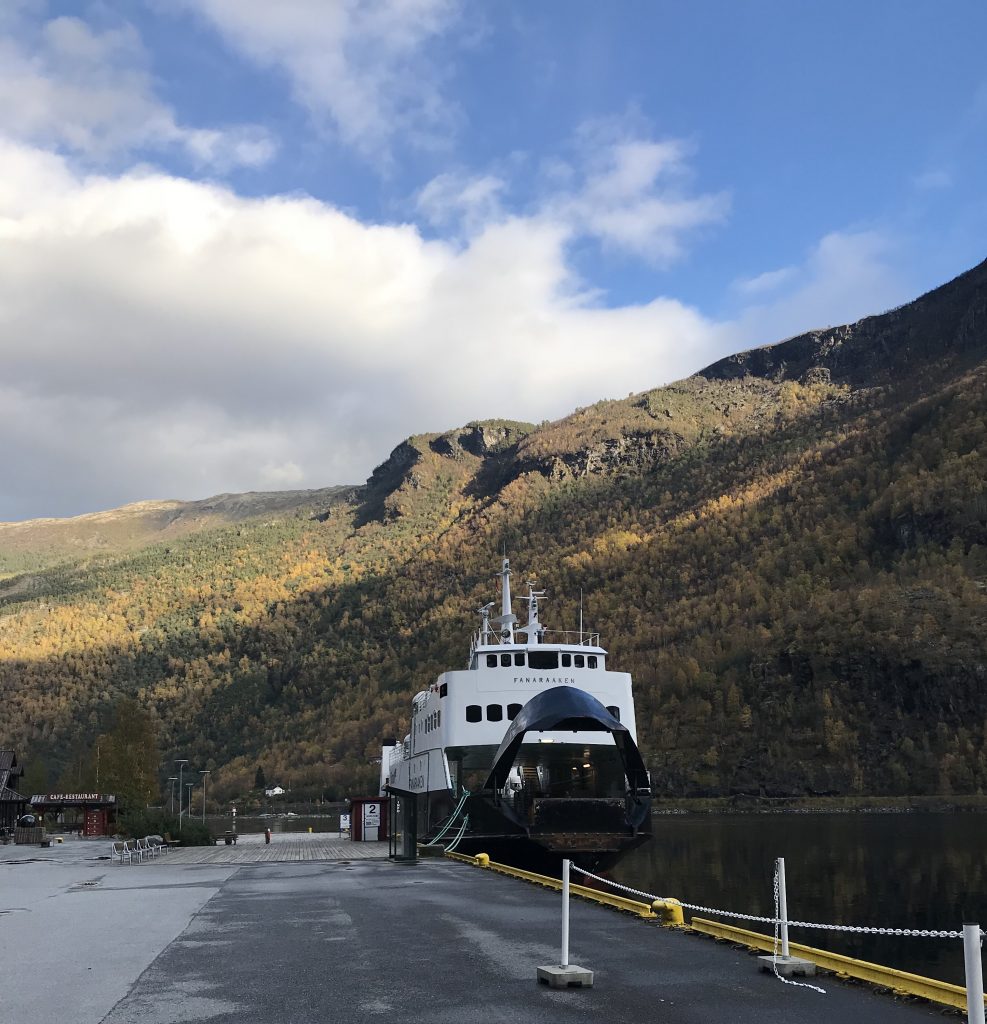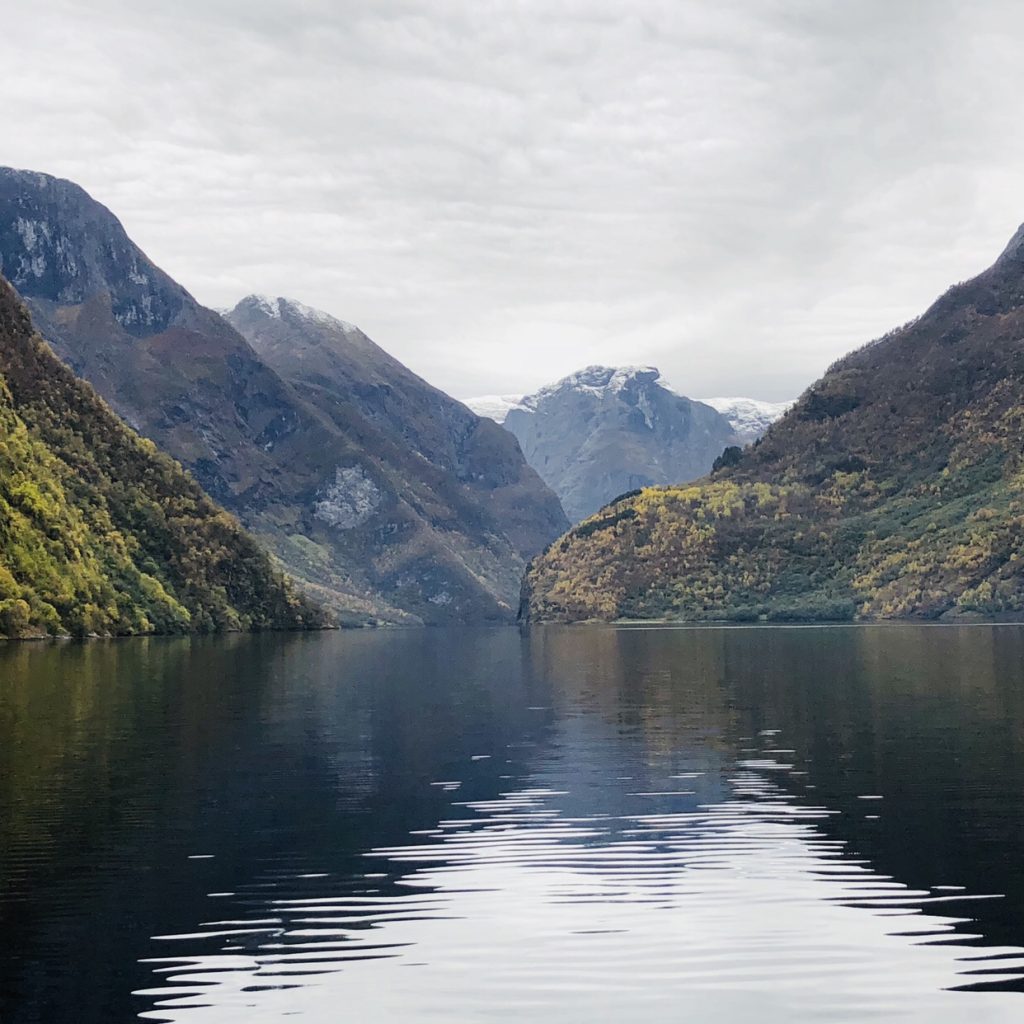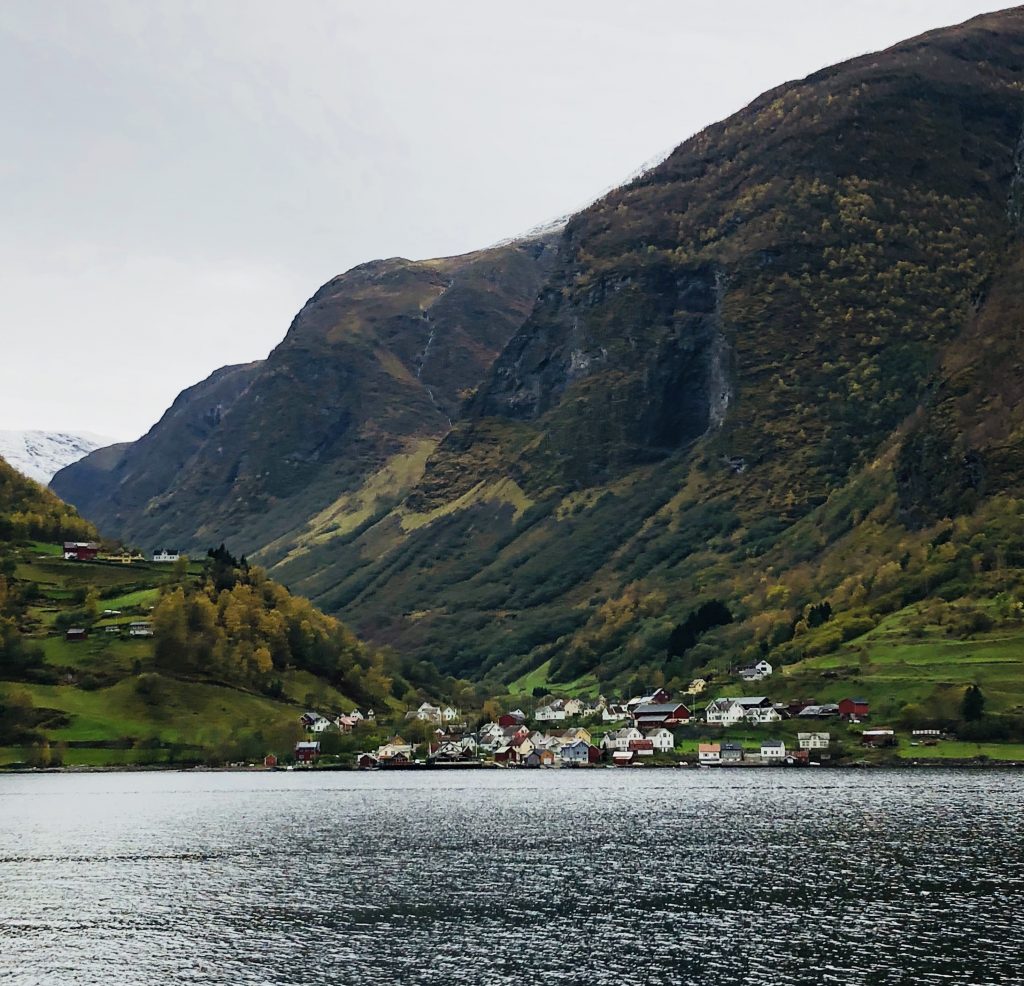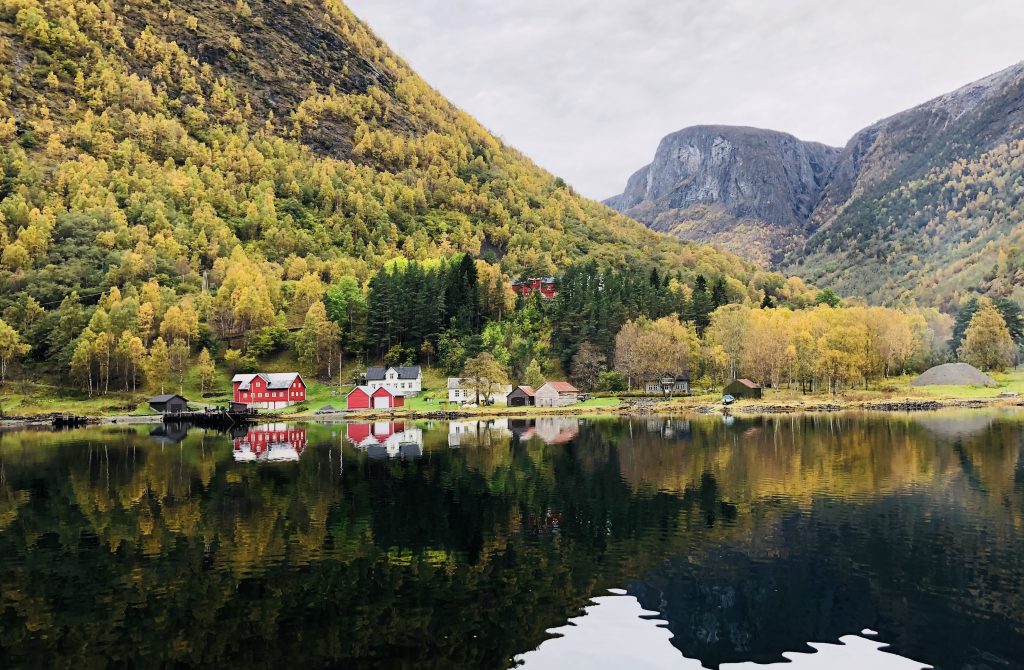 Gudvangen to Voss
The ferry lets you off in Gudwangen.  Gudvangen is a very little town and many of the shops are closed in October.  We only spent about 30 minutes here and could have explored more had it not been cold and raining.  Just a short walk from the pier there are buses. The people that were from the organized tour already had passes,  but from researching I knew that we needed to  buy our tickets from the directly from bus driver. Bus 950 is the bus to Voss.  We paid 80 KR ($9.50 USD) each for our ticket and the ride was about 50 minutes.  I had read in a forum that the buses coordinate with the ferry so there will always be one waiting when you get off the ferry. During May- September, the bus takes the Stalheimskleiva road route, which passes two waterfalls and 13  narrow hairpin turns.  Because we were there in October, our route was scenic, but pretty straightforward.   Read about our time in Voss Here.
Voss to Bergen
We got off the bus at the bus station in Voss and it is just a short walk to the train station.  Tickets for this train can be bought at NSB.no.  Since we were staying the night in Voss, we did not know what time we wanted to depart so we checked the NSB app on our phone and were able to see the various departure times.  Seats are not assigned and just like the train from the airport in Oslo to downtown, we bought them from a kiosk outside the station.  Be sure to sit on the right side of the train for the best views.  Flowing rivers, beautiful villages and many tunnels are on this leg of the journey.   This train arrived in Bergen and is walking distance to the famous Bryygan area. Read about our time in Bergen HERE.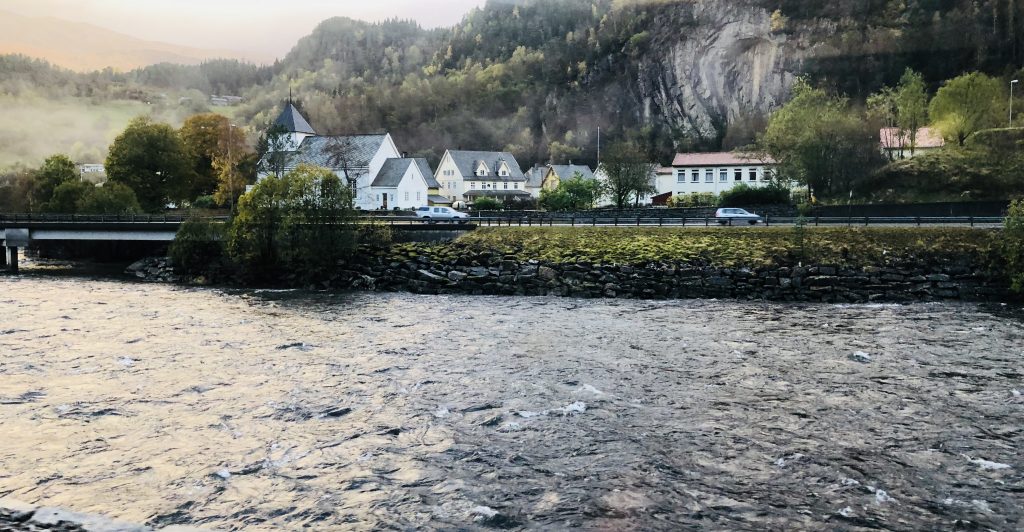 If I were to do this route again, the only thing I would change is to omit the overnight stay in Flam, and add a night in Olso.  Although the weather in October can be rainy, it is a great time to go because there are no crowds to deal with.  I hope this helps if you are planning a trip across Norway.
Norway is such a beautiful country to visit and I highly recommend it.  If you have any questions be sure to comment below and check out my other posts about each destination.  I have included great places to stay and ways that we saved money while traveling in a very expensive but amazing country.   I am so thankful to be able to share all my planning and research in hopes to inspire your travel adventures.  Have you ever been to a Scandinavian country and which was YOUR favorite?   Be sure to add your email  so you can continue to be inspired to travel with friends, family and significant other.
Happy Travels,
Jennifer